The VCU Wellness center may sound like a bore, but it really has tons of resources for  students to utilize while studying at VCU. You may have known that The Well offers free counseling to VCU students, but did you know about all of the other resources they provide you with? Below are some services you may not have known about.
1. Advocacy Services
VCU prides itself on being committed to advocating for their students. This is why they have such amazing advocacy services at The Well. You can come to them if you or a friend suffers from dating violence, stalking, or sexual assault. They will provide you with resources to offer you the support you need. Some resources will be required to contact the authorities, and others are not. It is important to specify whether you want confidential advocacy, or if you would like to report the offense to VCU Police. They start by believing in you and your story, so don't be shy, and come down to visit The Well if you have been a victim of dating violence, stalking, or sexual assault- the employees at the Well will never judge you!
2. Recovery Support
The employees at VCU's Wellness center understand that college students require a certain type of aid and encouragement when recovering from drug and alcohol addictions. They have established several recovery programs for students, ranging from individual treatment to group therapy. Their programs have promoted success in many of their participants. The majority of their patients achieve higher GPA's and retention rates after completing a recovery program at The Well.
3. Sexual Health Services
The staff members at The Well are equipped with a plethora of resources that they can help you get in touch with. The Well also offers free HIV testing at several points throughout the year, so keep your eyes peeled for a notification of this testing on flyers around campus and on your VCU email. If you are interested in learning more about contraceptive use, you can schedule an appointment with the VCU Health Services, or go through one of the Wellness Center's partners, like Planned Parenthood of Richmond.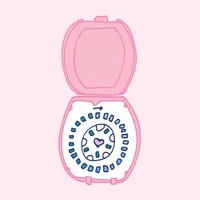 4. LGBTQ+ Resources
If you're unsure of the different types of sexual orientations people have, the Well's website lists the definitions in a section titled, "LGBTQIA+ Explained". There are also sections listed on the website that offer insight on common questions people ask regarding trans people. Not only does the Well attempt to appease all of your burning inquiries, but they also provide resources for members of the LGBTQIA+ community. These resources range from sexual health services to therapy sessions.
5. Campus Norms
You may think that all of your fellow rams party often, but in reality, they don't! The Well does an awesome job at construing the different norms on campus through the use of the Stall Seat Journal. The Stall Seat Journal is in just about every bathroom on the VCU campus, and depicts facts about the everyday VCU student. From a 2016 survey revealed in an addition of the Stall Seat Journal, it was found that 72% of VCU students only have between 0 and 4 drinks when they go out to a party. By educating students about these norms at VCU, students are less likely to feel pressured to do certain things like drugs and excessive drinking. They also address sexual norms so that students don't feel overwhelmed by their abundance (of lack) of sexual partners.
Hopefully, you have gained insight on some helpful resources ready for you at VCU. The Well offers students specialized services, so that you and your peers never feel alone. To find out what other services they provide, check out their website!