Shepherd University is a public university in Shepherdstown, West Virginia. The school has a 92% acceptance rate. The school has around 3,000 undergraduate students. Here are 10 buildings you need to know about at Shepherd University.
1. Wellness Center
The Wellness Center is a place for students to take advantage of when they are looking to get in shape. The wellness center has a cafe for tasty after workout food, a large 8 lane pool, racquetball court, and so much more. If you want to get trained with a routine that will give you results make sure to ask about the conditioning and tips.
2. Butcher Center
The Butcher Center is where the bulk of the basketball games for the school take place. The center has a large court and plenty of seating so every guest has a great view. The center also can be rented depending on timing for other large scale events.
3. Center for Contemporary Arts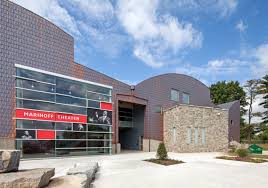 The Center of Contemporary Art holds the Department of Contemporary Art and Theater. The building holds a large theater that is utilized by students for theatrical performances as well as other events. The building also holds an impressive ever-changing art gallery.
4. Frank Center
The Frank Center is a concert hall where you will find students and friends/family watching various musical performances throughout the year. The acoustics inside the building makes it optimal for sounds to be heard. The seating allows any concert to be easily seen and no one to have a bad view of the stage.
5. Conrad Shindler House
The Conrad Shindler House is a historic building that is a must-see when you are visiting the school. The house was bought by Conrad Shindler who was a revolutionary war veteran. Now the house is used as a place to restore pieces of history and tell the present masses.
6. Boone Field House
The Boone Field House is where you go to attend various football games. You will find a press office as well as an area to grab tickets and food. The field house offers incredible seating so everyone has a great view of the game.
7. Thatcher Hall
Thatcher Hall is a residence hall that allows students to conveniently live on campus so they are close to their classes and possible employment for on-campus jobs. The hall holds around 140 students and houses both freshman and upperclassmen.
8. Popodicon
The Popodicon is a southern mansion style building with 17 rooms and a garden. The building is where the school has its president live in. The building being on campus means that the president can effectively work nearby while being an instrumental tool for the success of the school.
9. Dining Hall
The Dining Hall is where students are seen eating before or after their classes. The dining hall has plenty of seating to bring friends and family as well as different menus every day! The food options are fresh and you will never be bored with what is to eat.
10. Miller Hall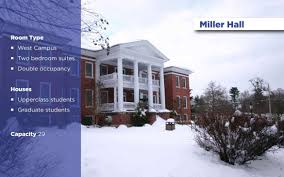 Miller Hall is a suite-style living residence that has around 7 suites that hold between 4-5 students each. What a suite is is that students will be together in a room usually 2-3 beds and will have a connecting room, being the bathroom, to another room of people. The suites make the building tight-knit and easy to meet new people.
Shepherd University is a smaller college that allows students to meet one another easily as well as get to know their professors for much-needed help. The school has plenty of fun buildings to do things in such as attend art galleries, concerts, or grab a bite to eat with friends. There are also plenty of functional spaces such as study lounges and meeting spaces.