Sacred Heart University is a private Roman Catholic university located in Fairfield, Connecticut. It is the second largest Catholic university in New England and has about 5,500 undergraduates and 3,100 post graduates. SHU consists of 5 colleges and offers over 80 bachelor's, master's, and doctorate programs. Here are some of its best buildings!
1. JP's Diner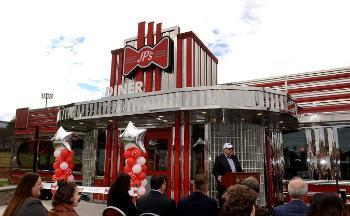 JP's Diner is a '50s and '60s-style diner that is located right on the campus of SHU! It is named after President John J. Petillo and is in the Upper Quad, between the William Pitt Athletic & Convocation Center and Pioneer Park.
The menu will contain about 30 classic diner foods including burgers, patty melts, club sandwiches, and desserts such as pies, ice cream, cheesecake and, of course, milkshakes. JP's diner is open 3 a.m. on weekends for those who love a midnight snack.
2. Bobby Valentine Health & Recreation Center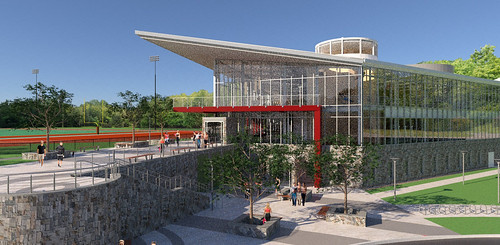 The Bobby Valentine Recreation Center just opened in August 2019! It is three stories and houses the Club Sports, Intramurals & Fitness Department. Some facilities include a multi-purpose sport court, climbing wall, and free weights, machines, q cardio space, 2 workout studios, a juice bar, and a suspended track that overlooks the court and climbing wall. There's also an 18-bike spin room, an HD golf simulator, and bowling alley!
3. Toussaint Hall

Toussaint Hall is a new residence hall located in the Upper Quad and the room layout is in two-bedroom pods that house four people with a few single rooms. There are 170 freshman living in Toussaint Hall and it also houses the Honors Living Learning Community. There are two atrium-style common rooms, study rooms on each floor, and a game room!
4. Art & Design Gallery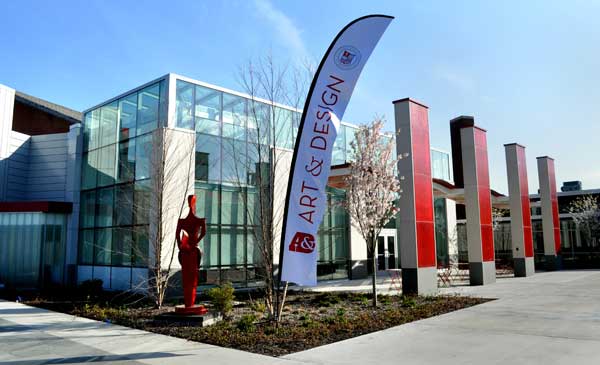 The Art & Design Gallery is run by the Art and Design program in the College of Arts and Sciences and showcases the work of SHU's Graphic Design, Illustration, and Studio Art program students. It is located between the Science Center Wing and the Edgerton Center for Performing Arts and hosts the annual Student Art & Design Expo. There is also an outdoor courtyard where events and campus activities take place, as well as a media screen where students can view movies throughout the year.

5. Scholars Commons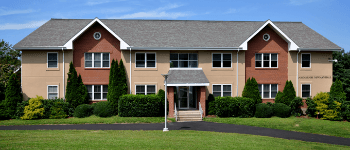 The Scholars Commons is located on the Northwest side of campus and is made up of four buildings: Augustine Hall, Thomas Aquinas Hall, Theresa of Avila Hall and John Henry Newman Hall. Each residence hall has 10 apartments and houses 7 or 8 sophomores in each. The Scholars Commons is near Campus Field, the Recreational Center, and JP's Diner! There is also a fitness facility within Theresa of Avila Hall.
6. Edgerton Center for Performing Arts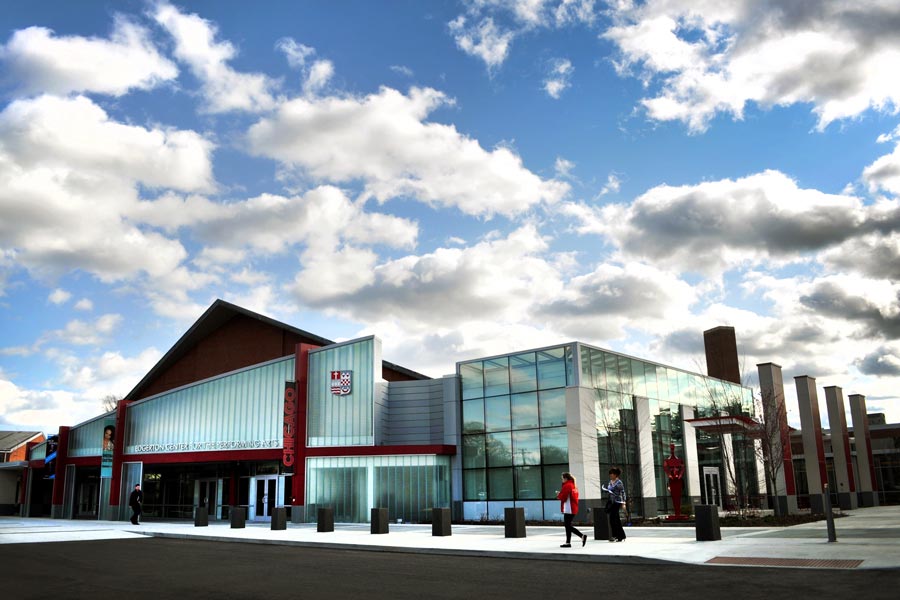 The Edgerton Center for the Performing Arts stages theatrical, musical and dance performances. Students in SHU's performing arts programs all learn the technical elements of theater in brand new software and equipment that was installed in 2016. The Edgerton center hosts student productions and concerts, as well as the Student Affairs lecture series!

7. Jorge Bergoglio Hall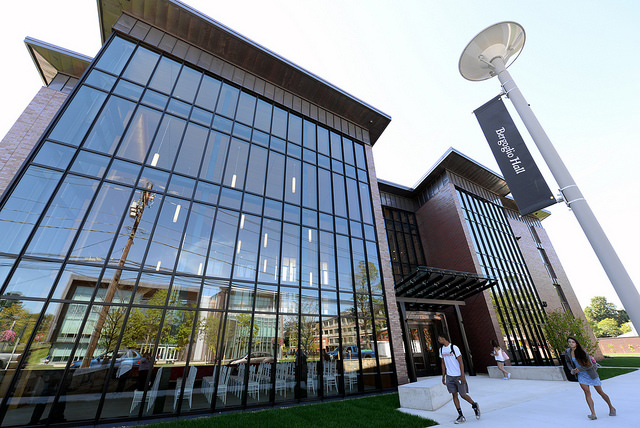 Jorge Bergoglio Hall is located in the heart of campus and has pod style rooms with two bedrooms, four student, and one bathroom per pod. Bergoglio houses over 200 freshman and sophomore students. Bergoglio Hall has a multipurpose fitness facility as well as a video game classroom!
8. Sheila Hamilton Student Success Center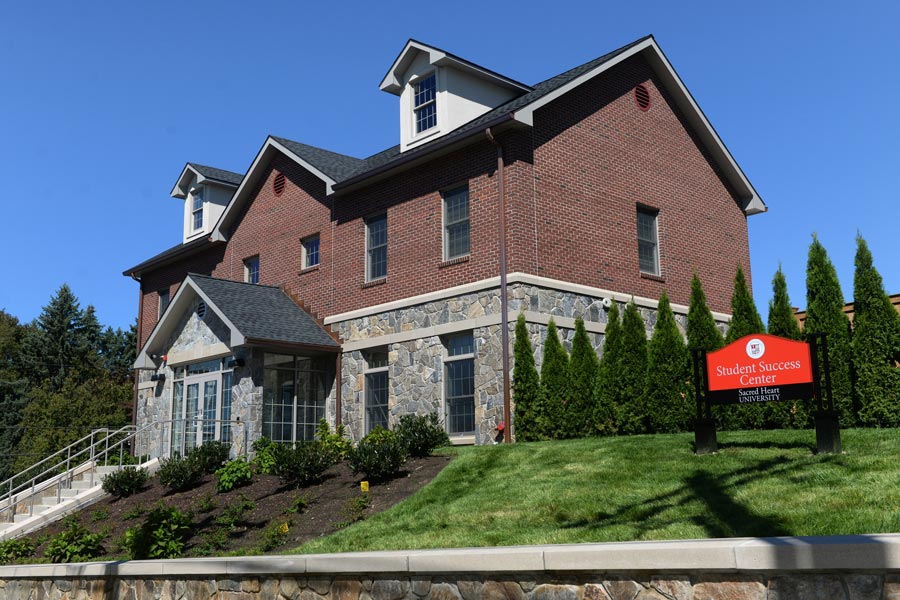 The Sheila Hamilton Student Success Center houses programs that enhance student learning, testing and achievement. It includes the Jandrisevits Learning Center; which offers workshops, writing support, group study, learning labs. It also houses the Office of Special Services which provides services to students with documented disabilities.

9. The Ridge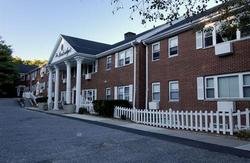 The Ridge apartments and townhouses are about a mile from campus. They house approximately 175 upperclassmen (juniors and seniors). Each apartment has anywhere from 2 to 5 people and there is on site laundry services. Each townhouse is 3 floors and houses 8 people. There is a shuttle from The Ridge to campus as well!
10. William Pitt Athletic & Convocation Center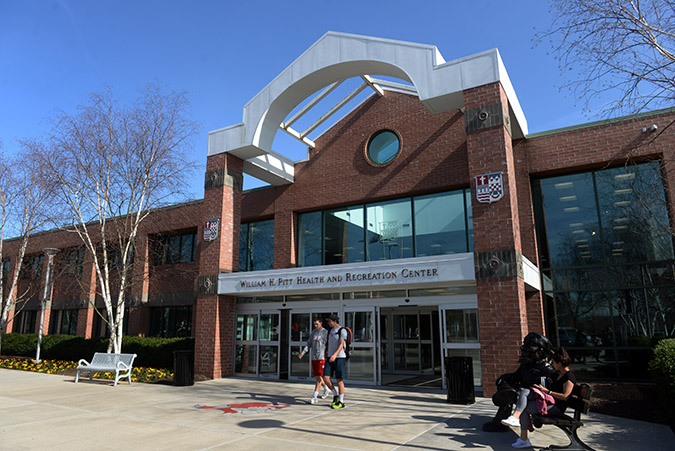 The William Pitt Athletic & Convocation Center opened in August 1997 and is the home to SHU's basketball, volleyball programs, fencing and wrestling programs. It has three levels and features a four-court layout. There is state-of-the-art weight training equipment, an indoor track, and retractable batting and throwing cages.