Baylor is in the heart of Texas definitely has a few historical stories behind it that make this university so special. From its finding and initial story to today's amazing culture, Baylor is rich with history and fun facts that compel you to come to this school just to be a part of it. Don't take my word for it, here are just a few historical fun facts about this amazing university that you will want to know!
1. Original Campus was in Independence, Texas
Despite the amazing college town that Waco is today, it was not founded there. Baylor's original campus is in Independence, Texas a place where you must go during your time at Baylor. The original campus is full of history and stories from the past that just leave everyone speechless or in tears. The campus was split into girls and boys campus and has the origninal pillars that is the image of Baylor. It became a university when Texas was a republic, seperate from the rest of the U.S. making it the oldest university in Texas. And, when Baylor moved to Waco, it merged with the Waco university to become what it is today. Baylor has come a long way and looking back it was an amazing journey that thankfully gets to continue.
2. Bear Mascot
When Baylor started participating in sports such as intercollegiate football, they did not have a mascot, just went by "the Baptists". That is, until one of the president's of Baylor in the early 1900's decided that it was time for Baylor to have a mascot. So he created a contest to make it fun, having the students enter poems or songs or yells based on the mascot. Then the student body voted on what was entered and although the buffalo got 2nd place, the bear took the win and became Baylor's mascot. Many of those chants were then used at Baylor sport games and began to stick. The Bears have been Baylor's mascot for over 100 years and continues to bring pride to the university.
3. Baylor Line
The Baylor Line is such an important part of Baylor's history and culture and many students cannot imagein life at Baylor without it. Interestingly enough, the Baylor line didn't form until around the 1970's by male students as a spirit organization. Back then, they just wore special t-shrits and sat in a section and cheered for the players. Later in the 90's it became what the line is today, finally adding woman and running across the field, wearing gold jerseys with a fun nickname of their choice. The Line brings to life Baylor's football games and cheers and motivates the players as they run through the man-made tunnel and get cheered by their classmates. This is a tradition a part of Baylor that will forever be timeless.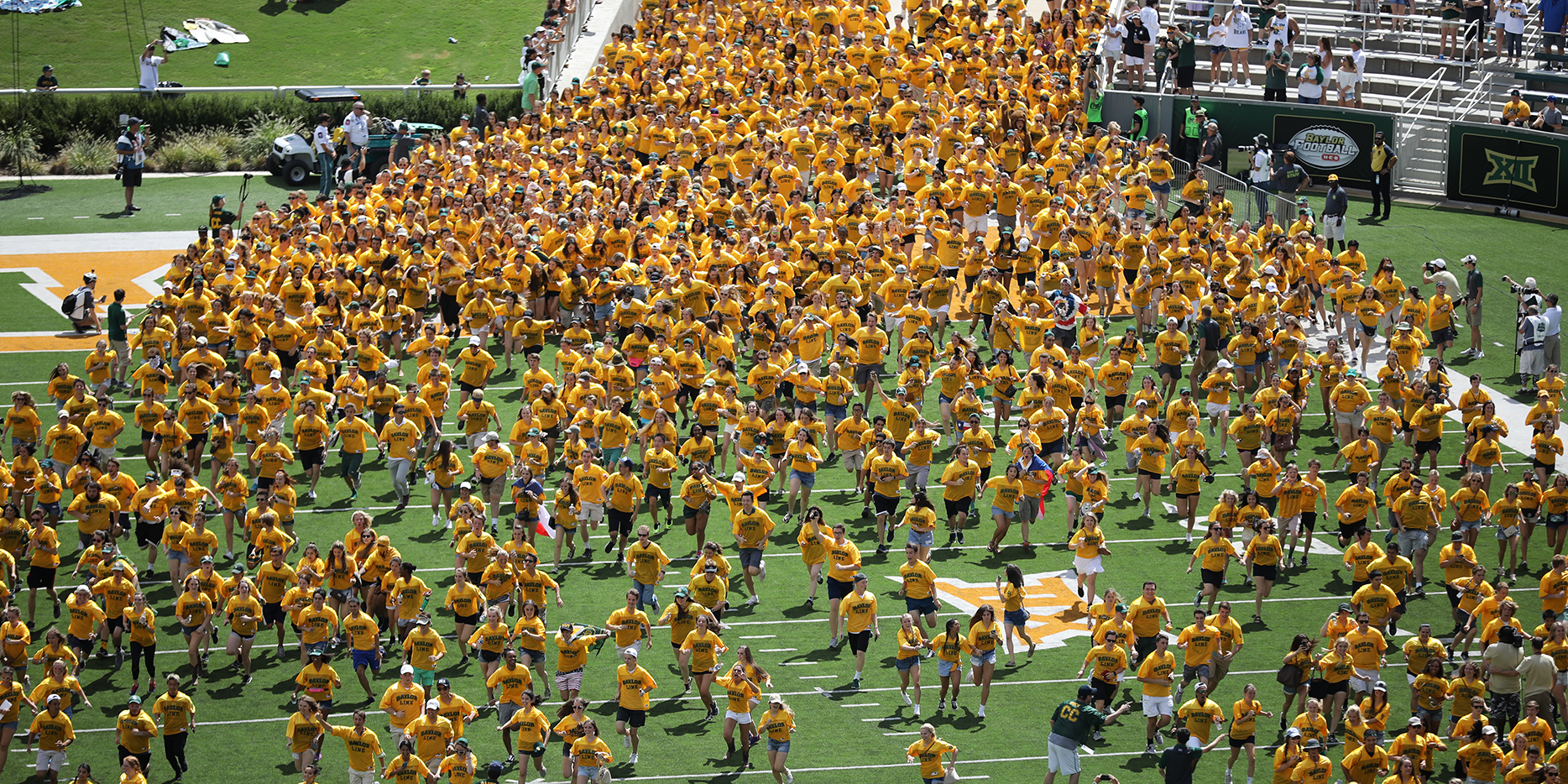 4. Memorial Light Posts
Baylor University has an amazing, beautiful campus that many people look at and instantly decide to come here. One of the unique aspects of Baylor's campus is the light posts that are scattered all throughout the university. Many do not know, but these as well have an interesting history behind them. Each one of the light posts commemorates each of the men and woman who fought and died in World War II. Names have been added to each of the lampposts to truly memorialize the soldiers who fought and Baylor even has a plaque in the shape of a shield to commemorate those who died as well. This is just another light that Baylor illumines.
5. Fixer Upper
Yes, as many of you know, the show Fixer Upper is centered here in Waco. It has a special place in our hearts and many Baylor students visit Magnolia as a nice weekend day trip, walking just a few blocks to have a fun day at the beautiful market and bakery. For a little up to date history, the amazing Chip and Joana actually attended Baylor University and met there and eventually got married and started a show that is cherisehd by many across the U.S. Baylor has brought forth so many amazing people and showcasing their talents when they didn't even know they had any. It is such an amazing university and these two amazing people attended and created a new community and name for the Waco town. You know what they say, ring before spring!
I hope that you fall in love with Baylor's history just as much as the rest of the Bear Family and learn to appreciate and cherish what this university is know for. It is such an amazing environment that has so many wonderful traditions that connect you back to the past days. This is what makes Baylor so special and hopefully you decide to attend because of its amazing culture!