Given that Queen Mary is a constituent college of the federal University of London group and is a member of the Russell Group for leading UK universities, QMUL prides itself on high-quality research and teaching.  As a result of its recognition in its advanced style of teaching, there is an array of on-campus and online resources readily available for students to fulfill and exceed their academic potential.  Here are some of the helpful resources Queen Mary offers and endorses.
1) Box of Broadcasts (BOB)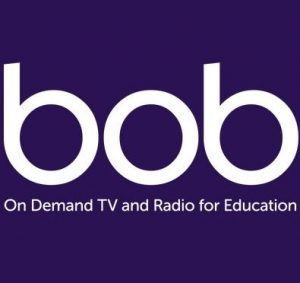 Specifically for higher and further education institutions in the UK, BOB allows students to record over 60+ TV and radio channels and even schedule recordings in advance, for educational purposes. These recordings can be electronically embed onto our Virtual Learning Platform QMPlus to share with other students and grow an archive of material. QMUL also holds a license with the Educational Recording Agency (ERA) which works in the same way as BOB.
2) Copyright Licensing Agency (CLA)

With the course packs usually provided for some modules, in which copies of often copyrighted material is printed; it is a good idea to check articles against the extensive list provided by CLA before referencing large proportions of an article for research-based essays. If the full publication is not on CLA's list, you will need to contact the publisher directly to obtain copyright permission.
3) Library catalogue on QMPlus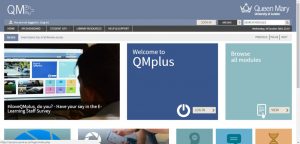 Once you are logged in to QMPlus, the online library catalogue allows you to search for which books are available to rent in the Mile End library as well as the ability to reserve and renew books. It also allows you access to thousands of online criticism and research resources which we would normally have to pay for on academic sites such as JStor.
4) 'Insessional' Modules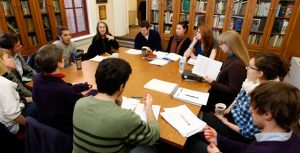 'Insessional modules' are 0 credit optional classes, provided to help you develop skills of your choice. Aimed equally at both international and domestic students of all academic levels, there are courses to help you to sharpen your academic writing skills in your specific degree field, as well as there being classes with the opportunity to learn foreign languages. These courses are on a first come, first served basis, and so a module convenor on your degree course will inform students of when insessional classes become available for your subject and how to enrol on one.
5) Royal Literary Fund Fellows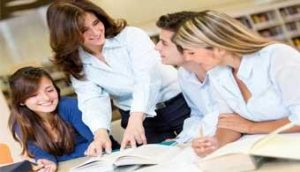 The Royal Literary Fund Fellows are based in the Mile End Library and provide you with one-to-one tutorials on how to improve your writing. Once you book an appointment (sometimes a long waiting time particularly during exam season), you should bring one of your graded essays to the session, in which they can overlook your work and provide you constructive feedback and ways to develop your essay writing skills.
6) Drop-in hours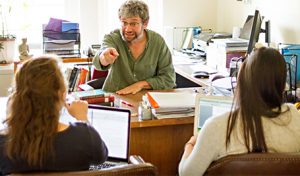 Also known as 'office' hours, this is dedicated time (usually 1-2 hours) once a week that every professor or seminar leader offers whereby they are available in their office for students to see them on a one-to-one basis and discuss any academic or personal issues they may have. It is offered primarily as a way to allow students and lecturers to further connect outside of seminars, and for students to be offered extra academic support for their work should they need it. Professors usually tell students their specific office hours, however, if you are not sure, look online at QMPlus for the times, or alternatively send them an e-mail.
7) Self-access resources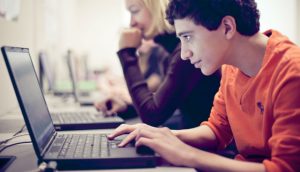 Queen Mary's Learning Developing site also hosts a number of online and downloadable self-access courses for quick and on the go tips for academic success including academic writing, correct referencing, exam and revision advice and more.
8) Academic English online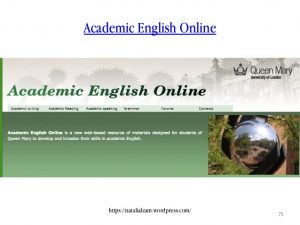 This is designed by the QMUL Language Centre, specifically for Queen Mary students. This online platform also allows students to enhance their academic English skills.
9) STEM Wishees

As Queen Mary is internationally renowned as one of the top universities in medicine and dentistry, they encourage students to use this platform to develop your understanding of good quality writing in STEM subjects by providing a collection of real-life academic projects for both STEM students and teachers.
10) Interlibrary loans

If you wish to read material which is not available in the library on campus or online, and is not easily obtainable, you may request it through Queen Mary's interlibrary loans by filling in a form on the Self-Service page.
Libraries accessible for QMUL students
1) Mile End Library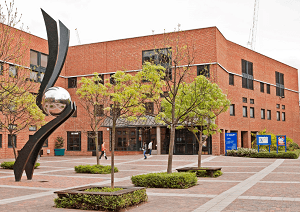 Located in Library Square, this main library is open 24/7 and was recently refurbished with new facilities such as a study centre, additional group study rooms, new PCs and gender-neutral toilets. The library offers silent study areas upstairs whereby you are able to seclude yourself away from everything and solely focus on work. There is also a café located downstairs, making it a perfect place to work on assignments.
2) Whitechapel Library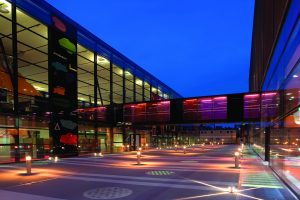 Located at Queen Mary's Barts and the London School of Medicine and Dentistry campus, this library is the more specific home to texts related to medicine and STEM-related subjects. During term time, it is open from 8am to midnight Monday to Sunday. While it is specifically for students who study medicine, non-medical students are welcome to use the library study space provided they are Queen Mary students.
3) West Smithfield Library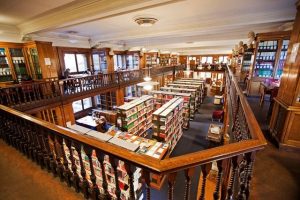 Another medical based library in Whitechapel, this library is open from 12pm to 8pm Monday to Sunday. The basement PC area, however, is open 24/7 to QM students who have card access to this area.
4) Senate House Library
Senate House Library is the hub library for the 'University of London' universities, situated in the centre of Bloomsbury, nearest to SOAS, University of London. Usually, at the start of each academic year, students are able to sign up for a Senate House library card at the Mile End library. From the Mile End campus, Senate House is easily accessible on the Central Line to Tottenham Court Road. It is open from 9am to 8:45pm Monday to Friday.
5) British Library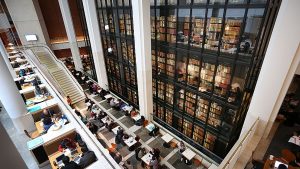 Known as the largest national library in the United Kingdom, there is an endless plethora of resources for students to delve into. While there is airport-like security screening to enter the library, the workspaces are free to use by members and non-members alike. It is open from 9:30am to 8pm Monday to Friday and is easily accessible from the Mile End campus by taking the Hammersmith and City line tube to the Kings Cross St Pancras station.