If you're a UNH Wildcat you're most likely familiar with the UNH app, in the App Store, but learning how to maneuver it can be more challenging than you think. Although the design of the app is strong, the features can be difficult to find. So, here are the top 7 features in the UNH app, so you already know what to look for.
1. MUB Events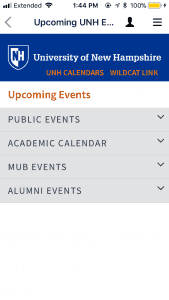 Here is where you can view all the events going on on campus. Under MUB events, you can see all the things open to students and where they are happening. The next time you're without plans or just finding yourself being bored, check the "events" section of the UNH app!
2. Dining Hall Menus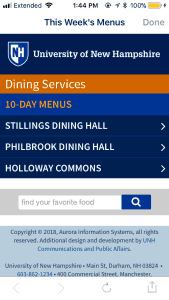 If you want to know what the dining halls are serving without going to all three and looking, this section of the UNH app is perfect for you. Not only can you view what's being served at that present time, but what will be served up to the next ten days. You can also view what's open and closed on campus for food if you're unsure.
3. MUB Movies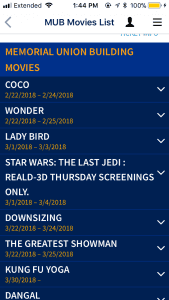 For those nights when you just want to chill out and relax either with your friends or alone, remember that the MUB is always showing movies for free. You can view which ones are being shown and what times under this section of the UNH app, and remember that you don't have to pay for them! Snacks and concessions are also sold at the MUB, so traveling to see a movie is no longer necessary.
4. Wildcat Transit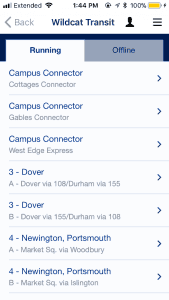 One of the most popular and necessary features of the UNH app is the bus scheduling section. The Wildcat Transit allows for tracking of when the busses are coming to your stop and which ones will arrive. You can also view when they are going in and out of Dover and Portsmouth for your weekend travel needs. The tracking is very accurate so you don't have to worry about it lying to you and the bus never showing up!
5. Dorm Laundry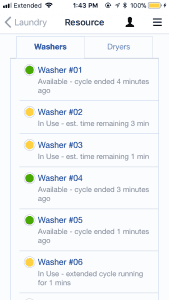 Another very useful part of the app is the laundry section where you can view which washers and dryers are open for use. You can also view how long they will be running for so you know exactly when your loads are done. Again, the app is very accurate and will save you a lot of time and energy.
6. Athletics
Finally, the athletic section of the UNH app. Not only can you access scheduling and results of any Wildcat teams, but you can get your tickets straight from the app. Simply use your UNH information to log in and the tickets are free for reserve. You can also see live statistics of any games you can't make.
So, there you have it. The UNH app is extremely helpful in numerous ways, and here are some of the most important features to remember. Also, the app is always getting updated with new things, so be searching for other useful tips and tricks in the future!