University of Vermont is a beautiful school located by the water in Burlington, Vermont. This four year university has many excellent programs, but the ten listed below are the most popular majors.
1. Business Administration (BBA)
A Business Administration major is an excellent path for those who are interested in entering into business. It provides a broad education, filled with accounting, finance, marketing, and more. Students enter into a variety of different business fields successfully with a Business Admin degree.
2. Environmental Studies (BS)
Environmental Studies is a broad major that discusses biology, chemistry, physics, geology, and more. After taking general education courses, the science courses begin to focus more directly on the environment.
3. Psychology (BA, BS)
The Psychology Program studies mental processes and resulting behavior. Students in this program can pursue either a humanities study of psychology or a science study of psychology.
4. Nursing (BSN)
Receiving a bachelor's degree in nursing is a great way to enter out into the field directly after college. If you are passionate about medicine and are looking to do a minimal amount of schooling, this is a good program to enter into. Nursing programs are a unique feature of a university.
5. Mechanical Engineering (BSME)
The mechanical engineering major is a combination of two stem studying. It combines both mathematics and physics to teach students about engineering materials and designing machines.
6. English (BA)
English majors are trained in communication, reading, writing and more. Students graduating with this background are extremely prepared for professional work in a variety of fields because of their well rounded education. English majors enter into business, news, education, law, and more.
7. Biology (BS)
The biology program studies the organisms and systems that permit life. Through classes, labs, and research opportunities, students become prepared to get out into the biology field or pursue medicine.
8. Political Science (BS, BA)
Political Science is a major for students who are passionate about political systems in general, the political climate, and studying how politics shapes and is shaped by society.
9.  Public Relations (BA)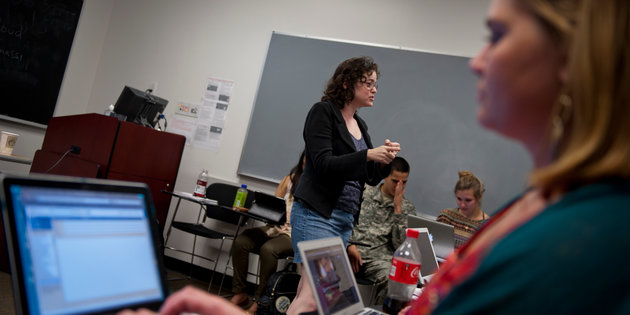 Public Relations majors are trained in communication, politics, international relations and more. Students often graduate to enter into the political field as lobbyists, marketing managers, event planners, and more.
10. Economics (BBA)
Economics majors learn about economic theories, systems, trends, and more. They are taught to analyze economic data, find trends, and predict outcomes of certain sets of information. Students often enter into a variety of different business positions.
University of Vermont has excellent rankings in these programs, and is ranked in the top 100 for both nursing and environmental studies. Students entering into these programs will graduate prepared for professional work.