SUNY Cortland really encourages their undergraduate and graduate students to do research. With that being said they have multiple resources for students to use whether it is for research or just for a simple assignment.
1. Catalog
Catalog allows students to get more information on books, magazines, journals, etc. This way a student isn't spending hours and hours finding things at the library.
2. Aleph
Library Management System. It is used by library staff as a budgetary system for collection building, as well as cataloging collections, and circulation of materials.
3. Blackboard
SUNY Cortland uses Blackboard Learn 9.1. eLearning can range from a course being offered completely online to having supplemental class materials posted in an online version.
4. Computer Labs
Fully equipped computer labs on the first and second floors of the library. The PC Lab, MAC Lab, and the IRA are scheduled for classes; the schedules are posted daily. When they are not schedule, students are welcome to use them.
5. Interlibrary Loan
If the library doesn't have what you need, it is likely that the item can be borrowed from another library. This free service available to students allows us to have books, articles, and other items sent from libraries across the country.
6. Writing Center
Helps you with writing assignments and answers your questions about writing.
7. Databases
You can find a wealth of information, from articles to reference books, online in the database listing on the library tab in MyRedDragon.
8. Reserves
Teachers and faculty may place copies of the assigned readings and projects on reserve and make them available through the library. These reserved items can be online or in hard copy.
9.  Teaching Materials Center (TMC)
The Teaching Materials Center is a place rich with the children's books, activities and curriculum materials our P-12 pre-service teachers might encounter in the classroom. These items are aimed at reaching students with a variety of learning styles.
10. Study Space
The library has plenty of space for students to study alone or in groups. The first two floors are for group study, with the two floors above for those who prefer quiet.
Top 5 Libraries at SUNY Cortland
1. Memorial Library
This library is located on campus. Students can spend as much time as needed here. It is a good change compared to just studying and working in the dorms.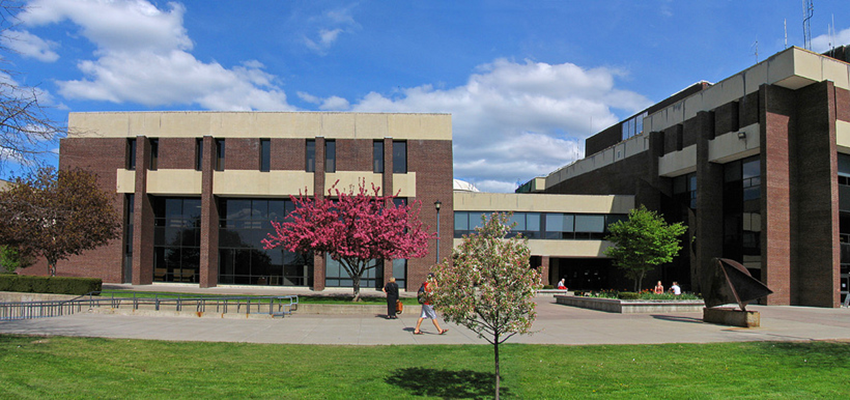 2. Cortland Free Library
The Cortland Free Library, a member of the Finger Lakes Library System, comprised of children's books, adult fiction and non-fiction books and other sources. Since this is a library for all it is located off campus but students are welcome to use this as a source as well.
3. Southworth Library
Further of a hike from campus is Southworth Library. The Southworth Library provides materials, services and programming to meet the diverse educational, recreational and cultural needs of the greater Dryden, NY  area.
4. Phillips Free Library
Philips is a library located off campus, but very close to it. Anyone can obtain a Library Card at Phillips Free Library. They also have different techonolgies that people can use.
5. Cortland County Law Library
This is more for Law students but could be beneficial for certain classes that students might have. The library's print collection consists of basic New York and Federal statutory and case law as well as general practice treatises. Online legal research programs, LexisNexis and Westlaw, are available on the library's public access computers.