College sports players frequently have their athletic performance analyzed, compared and dissected.

However, at OneClass, our focus on education had us wondering about the academic stats of players rather than their athletic stats.

To find out the most popular majors among student-athletes, we looked at the graduating degrees at a sampling of schools. Included are data on athletes from the University of Texas at Austin, University of Florida, UCLA, Ole Miss, Virginia Tech, Duke and LSU. Using the most current data available, we are able to get a snapshot of popular student-athlete majors.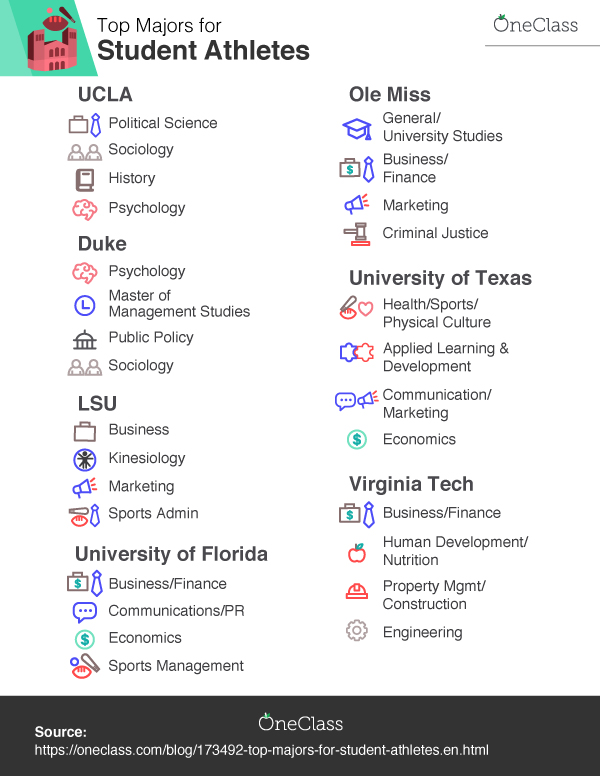 Share this Image on Your Site!
Simply copy and paste the code below and you can share this infographic on your site:

What Are Popular Majors for Student-Athletes?
In the cross-section of schools we analyzed, these are the top majors among student-athletes.
UCLA
Political Science: 26%
Sociology: 25%
History: 14%
Psychology: 9%


Duke
Psychology: 21%
Master of Management Studies: 11%
Public Policy: 9%
Sociology: 8%
LSU
Business: 15%
Kinesiology: 13%
Marketing: 13%
Sports Administration: 13%
University of Florida
Business/Finance: 17%
Communications/PR: 14%
Economics: 8%
Sports Management: 7%
University of Texas
Health/Sports/Physical Culture: 18%
Applied Learning & Development: 15%
Communication/Marketing: 15%
Economics: 9%
Ole Miss
General Studies/University Studies: 27%
Business/Finance: 18%
Marketing: 13%
Criminal Justice: 12%
Virginia Tech
Business/Finance: 21%
Human Development/Nutrition: 11%
Property Management/Construction: 9%
Engineering: 7%

It is important to note that our findings are based on college athletes who earn degrees. For college teams that have a lower APR rating from the NCAA, poor academic performance and dropouts among team members could skew the results.

Now let's look at the most popular majors in each sport.

Here are the top five most popular majors in college football, baseball, basketball, soccer, track & field, and swimming.

Top 5 Majors of Football Players
For football players, it can be challenging to balance the competing demands of sports and schoolwork. This invariably makes classwork more difficult and can affect the GPA of football players. Thus, it influences the academic majors of football team players.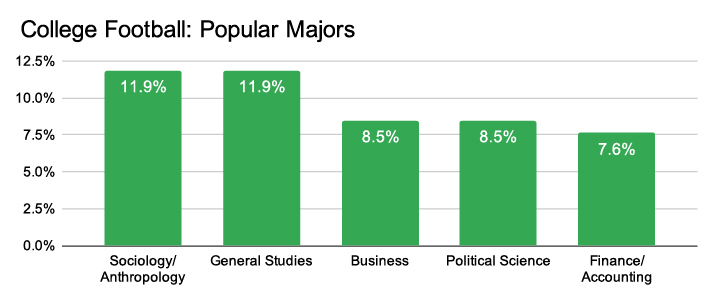 What Are the Most Popular Majors for College Football Players?

Sociology/Anthropology: 11.9%
General Studies: 11.9%
Business: 8.5%
Political Science: 8.5%
Finance Accounting: 7.6%
In many circles, sociology is considered to be an easy college major, and about 12 percent of football players study sociology or anthropology.

Another 12 percent of football players major in general studies. At some colleges, this degree involves a broad but structured curriculum. However, other schools allow general studies majors to design their own programs of study.

The NCAA reported that 51 percent of Division I football faculty said athletes "cluster" in select majors. Bowling Green State University professor Amanda Paule-Koba, who studies college athletics, said that clustering is a result of coursework being perceived as less rigorous, class schedules being more flexible, or faculty that is more likely to offer leniency.

Among the college teams we studied, we see a cluster of UCLA football players majoring in Political Science. At Ole Miss, General Studies was a popular major. Notably, most schools require students to declare a specific major by their sophomore year.

With the time demands of football players, selecting a major can be based on time management. That's reasonable, considering that Division I college football players can spend an average of 41.6 to 43.3 hours each week on their sport. Compared to the long hours of training, players with a typical course load spend just eight hours per week doing homework, studying or writing papers.

Top 5 Majors of Baseball Players
About 35,500 student-athletes play baseball. Interestingly, there is some crossover between the most popular courses of study of baseball and football players.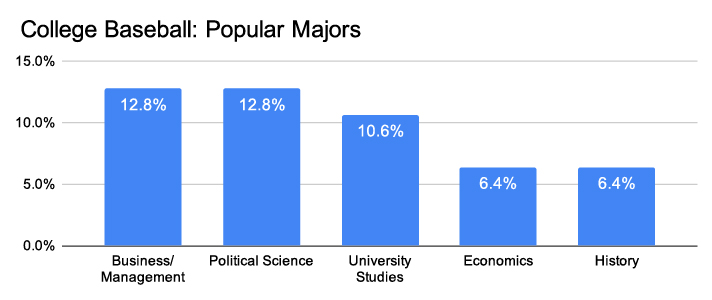 What Are the Most Popular Majors for College Baseball Players?

Business/Management: 12.8%
Political Science: 12.8%
University Studies: 10.6%
Economics: 6.4%
History: 6.4%
The most common majors for college baseball players are business and political science.

For many athletes, a degree in business administration provides the foundational skills that can lead to career opportunities in sports management. These graduates will have the advantage of knowing about the game through their on-field experience. This is combined with the operational savvy that can lead to managerial opportunities within sports or in other industries.

Top 5 Majors of Basketball Players
Basketball is one of the most competitive sports for student-athletes. Only three percent of men's players in high school go on to play college ball. That's much lower than the average of seven percent across all college sports.

The academic degrees of college basketball players show some divergence from the majors of other sports.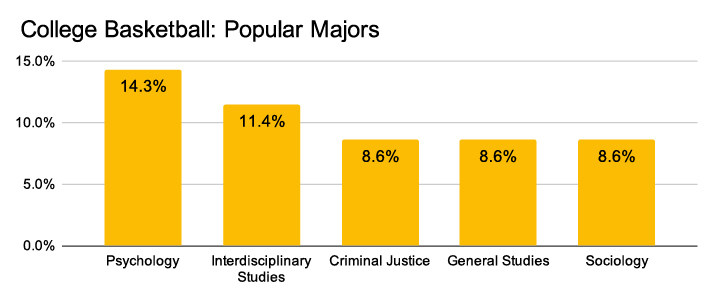 What's the Most Popular Major for College Basketball Players?

Psychology: 14.3%
Interdisciplinary Studies: 11.4%
Criminal Justice: 8.6%
General Studies 8.6%
Sociology: 8.6%
Majoring in psychology may be a natural fit for basketball players considering the game is often considered to be 75 percent mental. By taking psychology classes, student-athletes could find some overlap between their classes and their sport.

Top 5 Majors of Soccer Players
College soccer players account for 12 percent of all student-athletes. Notably, these athletes are more commonly enrolling in majors that are perceived to be difficult.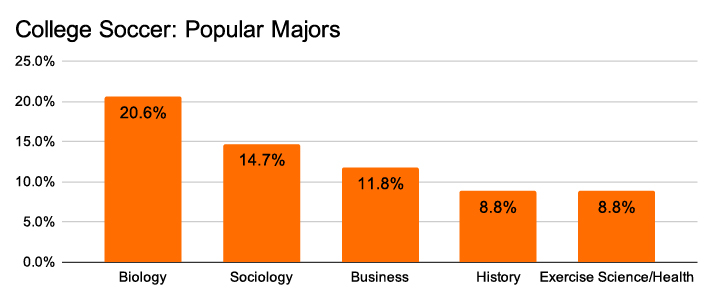 What Are the Most Popular Majors for College Soccer Players?

Biology: 20.6%
Sociology: 14.7%
Business: 11.8%
History: 8.8%
Exercise Science/Health: 8.8%
Soccer players, as a group, show a strong interest in studying biological sciences. The combination of Biology and Exercise Science majors account for nearly one-third of all degrees.

The clustering of soccer players studying biology occurred on the women's soccer team at Carnegie Mellon. However, rather than the clustering being seen as negative, the crossover was additive to their college experience.

"The love for the game translates really well to research," said one player about her two teammates who are also majoring in Biology. "It's the same idea of a team — the idea of having the same goal of finding a protein or a cure or something new in general."

Top 5 Majors of Track & Field Athletes
College Track & Field programs are frequently the training ground for Olympic medalists. About 97 percent of the U.S. Track & Field team who competed in the 2016 Summer Olympics in Rio de Janeiro were from NCAA college programs.
In some cases, the sport itself may influence what major the athletes choose to study.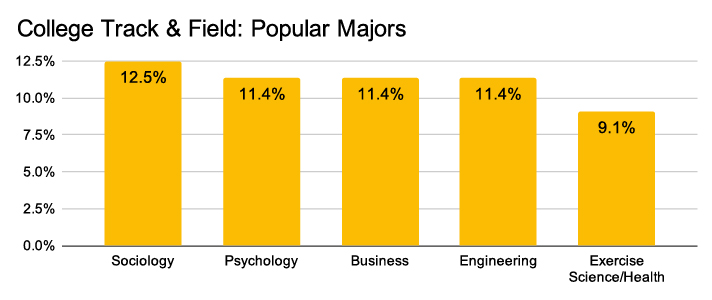 What Are the Most Popular Majors for College Track & Field Athletes?
Sociology: 12.5%
Psychology: 11.4%
Business: 11.4%
Engineering: 11.4%
Exercise Science/Health: 9.1%
Interestingly, Engineering majors are common among track & field athletes. Within the game, the mechanics of movement are key to gaining speed, height or force. For example, running mechanics breaks down stride length and frequency, looking at ways to help the human-machine improve speed. These concepts could easily translate into a similar mechanical engineering study of machinery.

In one example, track & field athlete Erin Evke is studying materials science and engineering at the University of Michigan. Her team developed a wearable sensor patch that assesses a joint's range of motion. The cleverly-designed device could be used during injury recovery and to help improve athletic form.

Top 5 Majors of Swimming Athletes
There are 22,545 student-athletes participating in NCAA swimming and diving teams. Although full scholarships for swimming and diving athletes are rare, student-athletes usually face 5:00 a.m. practices before class and training doubles over winter break.

When they're out of the water, swimmers are enrolled in a variety of academic majors.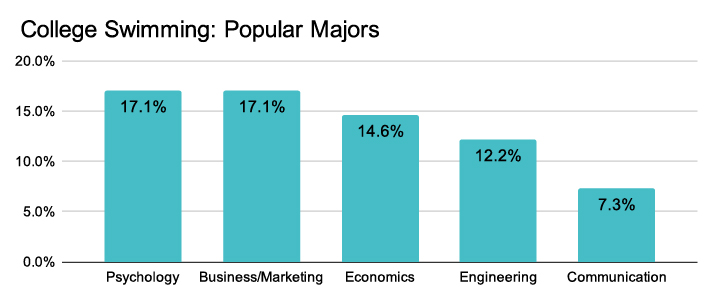 What Are the Most Popular Majors for College Swimming Athletes?
Psychology: 17.1%
Business/Marketing: 17.1%
Economics: 14.6%
Engineering: 12.2%
Communication: 7.3%
The range of majors represented among college swimmers provides a diverse set of potential career paths. The popularity of psychology and business majors among college swimmers is in line with the wider student body. Both of these are in the top four majors among college students.

Learn how OneClass' study resources have helped 90 percent of users improve by at least one letter grade.