Arizona State University is a public metropolitan research university with five campuses across the Phoenix metropolitan area, and four regional learning centers throughout Arizona. The school has an 83% acceptance rate. Here are 10 buildings you need to know about at Arizona State University.
1. Noble Science Library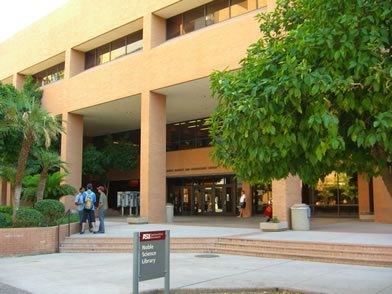 This particular library is the library to be at if you need any information on subjects within astronomy, biology, chemistry, engineering, geography, geology, industry standards, maps, mathematics, medicine, and physics. The building has plenty of study spaces. The spaces make it optimal to attain information in a quiet setting as well as work collaboratively with others on projects.
2. The Bookstore
The book store is the place to go to for getting what you need to survive campus. It makes getting your last minute supplies easy and efficient. You can either get items shipped to you or pickup as well as grab some themed school spirit wear as well.
3. Sun Devil Marketplace
Sun Devel Marketplace is the place to visit when it comes to buy streetwear for any type of school sporting event or even casual wear. The building has two floors of which the main floor is the retail outlet. The retail store also has a tech section if you need any computer or /phone tablet accessories. The second floor hosts different events and meeting spaces.
4. Post Office
The post office serves as the main hub for students to get their mail from friends and family that miss them. It also partners with the student center to offer students a fun place to visit for much needed unwind time. The building has access to lounge spaces as well as ping-pong, foosball, and air-hockey tables. There's even TVs which makes it optimal for catching a movie or game!
5. Computing Commons
The Computing Commons is the place to go if you are in need of cheap printing as well as meetings and homework time. It is a quiet area with separate rooms as well as over 200 computers. The building has both PC and Mac, so you don't need to pay money for a pricy laptop or printer set up yourself.
6. Memorial Union
Memorial Union is the place to be at when you are looking to gain knowledge on those who have served. It provides insight as well as helpful resources for those who are looking for a transition from military life to civilian. They have helpful resources to help you do well in classes.
7. Police Department
The Police department building is a hub for students to go to if they need any help when it comes to safety issues. The police building is in charge of making sure that traffic runs as efficiently as possible. If you ever need anything such as even a safe walk at night then contact this building with questions.
8. Sun Devil Fitness Center
The Sun Devil Fitness Complex is the hub for all types of different sports, recreation, and recovery. If you have an injury, this is a great place to help with adjusting your needs. The building has swimming areas, weight equipment and plenty of running tracks and fields. This is an ideal building to visit if you are looking to become physically healthy.
9. Citrus Dining Pavillion
The Citrus Dining Pavilion is a place for students to unwind and eat tasty food with their friends or family. The facility houses an all you can eat restaurant which has changing menus so you will never get bored with the food. The facility also has a coffee shop, plenty of seating, and a convenience store for fast on the go snacking.
10. Lyceum Theater
Lyceum theater is a building that was built in 1917 and was at one point the central heating building for the school. The place had been used for a variety of different things such as sorority and frat dances, meetings, and private dinners. Now it is a theater that can be utilized for the fine arts students and faculty to showcase the talent of the school.
Arizona State University is a great school to visit as the weather is moderately nice year-round as well as has plenty of different spaces to see and do. Each building is easily accessible and there are many helpful faces to help make navigation a breeze. You have everything from gyms to even a theater to do music practice in.