Are you wondering how Greek life could influence your future success? Our analysis revealed that a shocking amount of wealth, power, fame, and success has been acquired by fraternity members after they graduate.

While there are some trends, there are also some surprising contrasts. For example, both President Ronald Regan and musician Willie Nelson are alumni of Tau Kappa Epsilon.

There's also evidence of alliances that were formed by fraternity brothers. In the case of the college startup, Snapchat, all three co-founders joined the fraternity Kappa Sigma at Stanford.

On average, fraternity membership increases eventual income by 36 percent, even though members also have a drop in GPA by 0.25. However, it may not be necessary to have short-term losses to achieve long-term success. Fraternity members who are also using OneClass' study resources could see a net GPA increase of 0.75 or more.

Let's review successful alumni of college fraternities to see which Greek house has produced the most presidents, billionaires, celebrities, and other successful figures.

U.S. Presidents Who Were in Fraternities

Among all U.S. presidents, 29 percent have been in a fraternity.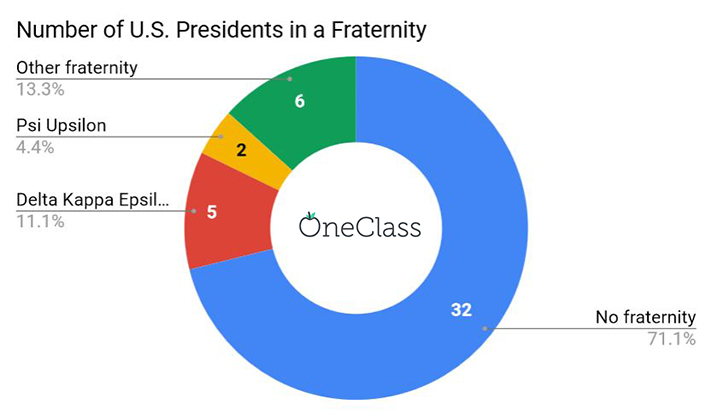 Delta Kappa Epsilon is the most common fraternity with more than 11 percent of U.S. presidents having been a member. That house has had even more impact in recent years. Among the 14 most current presidents, five have been in a fraternity, four of which were in Delta Kappa Epsilon.

George W. Bush: Delta Kappa Epsilon (Yale)
George H.W. Bush: Delta Kappa Epsilon (Yale)
Gerald Ford: Delta Kappa Epsilon (University of Michigan)
Franklin D. Roosevelt: Delta Kappa Epsilon (Harvard)
Recently, it's become more common for U.S. presidents to have been a part of the Greek system while they were college students. Among all presidents, 27 percent were fraternity members, but among leaders since 1881, 50 percent of U.S. presidents have been fraternity members.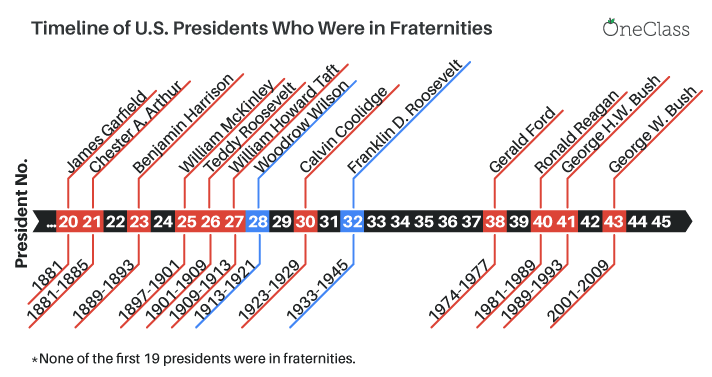 Billionaires Who Were Fraternity Members

There's significant wealth among fraternity alumni, and by our count, at least 34 billionaires named to the Forbes 400 list.

The fraternity with the most Forbes 400 members is Sigma Alpha Mu with alumni, including the CEO of L Brands and the founder of Baron Capital.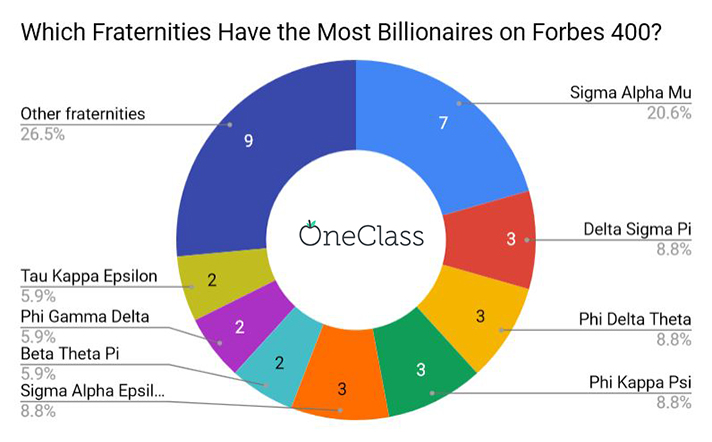 When we look at the same data by total net worth, we see a completely different story. The total net worth of theSigma Alpha Mu billionaires on the Forbes 400 is less than a quarter of the Beta Theta Pi billionaires. This dramatic difference is due to two Beta Theta Pi alumni: the Koch brothers, each having a net worth of $53.5B. Phi Kappa Psi has the second-highest figure as a result of Michael Bloomberg's $51.8B net worth.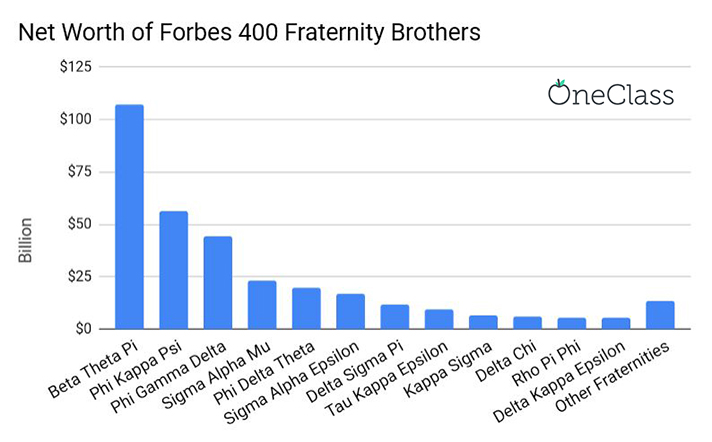 Successful Fraternity Alumni

Successful fraternity men have covered the full range of wealth, power, fame, and notoriety. In the lists below, we've highlighted selected alumni so that you can get a sense of the personality and priorities of each fraternity.

Alpha Epsilon Pi

Mark Zuckerberg: Facebook
Jerry Nadler: Congressman
Richard Thaler: Nobel-winning economist
Sanford Weill: Citigroup
Chet Simmons: ESPN
Bernard Marcus: Home Depot
Matt Van Horn: Lyft
Justin Mateen: Tinder
Frank Gehry: Architect
Paul Simon and Art Garfunkel: Musicians
Wolf Blitzer: TV news anchor
Delta Kappa Epsilon

George H.W. Bush: President
George W. Bush: President
Gerald Ford: President
Franklin D. Roosevelt: President
Theodore Roosevelt: President
Brett Kavanaugh: Supreme Court Justice
Avery Rockefeller: Banker
James McNerney: Boeing
Frederick Smith: FedEx
Donald Fisher: Gap
Herb Kelleher; Rollin King: Southwest Air
Frank Batten: The Weather Channel
William Randolph Hearst: Hearst Communications
Joseph Wilson: Xerox
Dick Clark: Media personality
Alpha Phi Alpha

Martin Luther King Jr.: Civil rights leader
Thurgood Marshall: Supreme Court justice
Duke Ellington: Jazz musician
Beta Theta Pi

Charles Koch, and David Koch (Deceased): Tied for 11th richest in the world
Sam Walton: Wal-Mart (Note: Sam Walton is deceased, therefore not included in Forbes 400. Adding the Walton family's $130B net worth to the Beta Theta Pi total above would bring it to $237B.)
Bill Bowerman: Nike
Dave Gilboa: Warby Parker
John Warnock: Adobe
G. Kennedy Thompson: Wachovia
Stephen Sondheim: Composer
John Wooden: Basketball
Tau Kappa Epsilon

Ronald Reagan: President
Charles Whittaker: Supreme Court
Howard Schultz: Starbucks CEO
Mike Huckabee: Presidential candidate
Willie Nelson: Musician
Steven Squyres: NASA astronomer on Mars Rovers
Steve Forbes: Forbes
Les Paul: Musician; Electric guitar inventor
Marc Benioff: Salesforce
Elvis Presley: Musician
Conrad Hilton: Hilton hotels
William Fowler: Nobel-winning physicist
Phi Kappa Psi

Michael Bloomberg: 9th richest in the world
Woodrow Wilson: President
Herbert Dow: Dow Chemical
Orra Monnette: Bank of America
Jerry Yang: Yahoo!
Jerry Nelson: Ticketmaster
Zach Braff: Actor
Alpha Phi Omega

Bill Clinton: President
Rex Tillerson: ExxonMobil CEO and Former Secretary of State
Kappa Sigma

Jerry Jones: Dallas Cowboys
Bobby Murphy; Evan Spiegel; Reggie Brown: Snapchat
Ted Turner: CNN and TBS
Bob Dole: Presidential candidate
Richard Burr: Congress
Edwin Hubble: Astronomer
Robert Redford: Actor
Jimmy Buffett: Musician
Phi Gamma Delta

Mike Pence: Vice President
Calvin Coolidge: President
Charles Ergen: Dish Network
Brian Lamb: C-SPAN
Edmund C. Lynch: Merrill Lynch
Sigma Alpha Epsilon

William McKinley: President
Howard Wood: Charter Communications
Henry Paulson: Goldman Sachs CEO; Treasury Secretary during 2008 financial crisis
John Thompson Dorrance: Campbell Soup Company
William Faulkner: Nobel-winning author
Terry Gilliam: Director
Sigma Chi

Grover Cleveland: President
Matt Salzberg: Blue Apron
Jeff Arnold: WebMD
Brad Pitt: Actor
David Letterman: TV host
John Wayne: Actor
Matt Groening: TV cartoonist
Tony Hale: Actor
Sigma Nu

Charles Schwab: Charles Schwab Corporation
Bob Barker: Game show host
Eli Manning: Football quarterback
James Dean: Actor
Kevin Systrom: Instagram
Jon Hamm: Actor
Rainer Castillo: Chubbies Shorts
Glenn Miller: Bandleader
Alpha Tau Omega

James P. Hoffa: Labor leader
David Bohnett: Geocities
J. Erik Jonsson: Texas Instruments
Lou Groza: Football Hall of Famer
Tennessee Williams: Pulitzer-winning writer
Phi Delta Theta

Neil Armstrong: Astronaut
James W. McLamore: Burger King
Drew Houston: Dropbox
Ralph C. Wilson Jr.: Buffalo Bills
John Willard Marriott Sr.: Marriott
William F. Harrah: Harrah's Hotel and Casinos
Chi Phi

Wilbur Ross: Secretary of Commerce
Walter Cronkite: TV anchorman
Brewster Kahle: Internet Archive
Zeta Psi

Henry Ford: Ford Motor Co.
Howard Dean: Presidential candidate
John Bardeen: Nobel-winning physicist
Dick Wolf: Law & Order creator
Richard Yuengling Jr.: Yuengling Brewery
Alpha Sigma Phi

Warren Buffett: Investor
John Kasich: Governor
Pi Kappa Alpha

Karl Rove: G.W. Bush administration official
Jon Stewart: Comedian
Steve Prefontaine: Olympic runner
Michael Dubin: Dollar Shave Club
Tim Ferriss: Podcaster
Jim Parsons: Actor
Learn more about how OneClass has helped 90% of users improve by at least one letter grade.

Image attribution: seanlockephotography – stock.adobe.com