Library services are essential for the growth and development of each student at any given school. And one university opts to focus on providing high-quality library resources to its students and faculty. Check out the Top 7 Library Resources at the University of North Carolina at Pembroke.
1. Online Research
Can't go to the library? Then do not fret. At the University of North Carolina at Pembroke, you can easily access the school's entire research database in just a few clicks of a button. With the help of Summon 2.0, students can search and access online materials and documents whenever and wherever they are.

2. Library Catalog
One of the many features of the UNCP library is its Library Catalog, called BraveCat. This system enables students to search the library via corresponding keywords or categories. Reading online has never been this easy thanks to BraveCat!

3. E-Journals
The UNCP library also compiled all of its journals and scholarly materials online. Thus, students can now access these research materials without ever having to go to the library! The same goes for its collection of E-Books!

4. Citation Linker
Having a hard time looking for a specific book you've just read? With the Citation Linker, you can now search for articles, journals or books by just having a citation at hand! Just think of it as searching for a specific music video on YouTube using a single line of lyrics.

5. Research Guide
Do you require assistance on your project? Then the UNCP library faculty has you covered! You can ask for a Research Guidance from any available faculty at the UNCP library. It's like having a private tutor – for free!

6. Ask a Librarian
Whether you're looking for a specific book or wanting to learn more on a specific topic, the UNCP librarian will definitely help you out. The UNCP librarians are considered to be very helpful and polite so you can be sure to get the right help that you need!

7. Friends of the Library Organization
Lastly, the UNCP has a very healthy library community called the Friends of the Library. Its mission is to help the students be more active on scholastic activities as well as promote the Mary Livermore Library and its collections.
There are many perks in joining this organization including Borrowing privileges, Library Lines newsletter, Invitations to the Friends of the Library sponsored events, National Library Week Book Sale and many more! Learning has never been this fun and engaging!

Libraries at the University of North Carolina at Pembroke
1. Mary Livermore Library
There is only one library available at the University of North Carolina at Pembroke and that is the Mary Livermore Library. Unlike many libraries on big universities, the Mary Livermore Library provides significant spaces for its students, giving more room for any individuals to study in peace.
Also, the Mary Livermore Library housed nearly the entire collection of research materials and documents of the UNCP, making it a lot easier for students to find and borrow materials. This library is significantly huge and has over 481,000 cataloged volumes, over 172,000 licensed eBooks as well as more than 167 databases – including the Charlie Rose collection, government documents, etc.

2. Robeson County Public Library
The nearest library outside the UNCP campus is the Robeson County Public Library. It housed a collection of books for Children, Teens, and Adults. Also, students at the UNCP may initiate interlibrary loan for specific materials at this public library.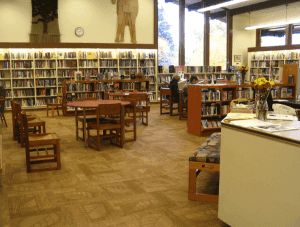 3.  Henderson County Public Library
This library was opened to the public on August 1, 1904, following years of hard work of Edward Jonas – the publisher of the Henderson Journal. After more than a century of service, the Henderson County Public Library has grown to become one of the biggest libraries on the U.S. It stores a vast collection of research materials, public documents, online resources and many more!

4. Charlotte Mecklenburg Library – University City Regional
The Charlotte Mecklenburg Library is serving more than a million citizens in Mecklenburg County, North Carolina. It has 20 branches and is considered to be the leading urban public libraries in America.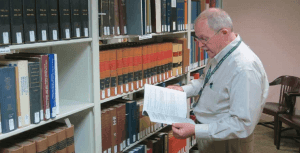 5. Robeson County Public Library
The Robeson County Public Library focuses on enriching the minds of children, teens, and young adults. Its main categories include fantasy novels, children stories, genealogy and computer basics.