University of New Haven has library resources setup for students that are not knowledgeable about certain topics that they need to know to succeed in school. Any students that need help are welcome to use these resources. Here is a list of the top 10 library resources.
1. Introduction to Library Resources
Being new to the university you may be lost in allot of parts of the university and getting to know it. One of those things are the library resources, considering  there are lots of them it can be confusing, so there are workshops set in to teach students about this.
2. University Library Catalog
There are many books, articles, DVDs, etc a lot of material at the library. It can be hard for students to go find the books that they are looking for or the research material they are looking for. Instead of going though that struggle there is a library catalog where you can enter the name of the book and it will give you the catalog number, that way you can find your items easier.
3. Journals and Articles
Either for research purposes or for information that you would want to inform yourself about, there are publications online about all the programs. You can search this up by browsing it by the disciplines.
4. Staff Service
The staff working in the library of University of New Haven have great knowledge in the library sources and the research portion of finding information. Students that are not sure about how to find books or have other question they are more than welcome to go ask the staff working there and they will help them.
5. Hours
The hours at this library are great for student. The library opens early in the day and closes later in the day. These hours will benefit the students that are busy with other activities such as jobs or clubs and will give the students a great range of hours to work with in the library. So when you get the time go get some work done.
6. Interlibrary Loan Services
This is a great service for students to take advantage of considering how convenient it would be for them, plus all the time they can save. With this service you can ask to get a book from a different library that they don't have in the school's library.
7. Online Chat
There are many students that have long commutes to school. Considering that students don't have classes everyday there is no need to go to school. For those students that have questions at the time this would be a great opportunity to ask their question by online chat. Such a convenient way for students to communicate.
8. Digital Commons
Digital commons at new haven is designated to store, showcase and share works created by members of the university of new haven community. This is a chance for students to check out other peers work.
9. Special Collections
This is a special collection of primary documents produced by University of New Haven in 1920. This is special for the students that attend this university. This collection is rare, so the students should check it out, they can gain some knowledgeable information.
10. Computers
There are computers setup in the library for students to be able to use. If you don't have a laptop to work on than there are plenty of computers available for you to work at. There are also the most important  software downloaded on these computers that you can use for your advantage that you may not have on your laptop.
Top 5 Libraries at University of New Haven
1. Marvin K. Peterson Library
Marvin K. Peterson Library provides students with a lot of spaces to get work done at. They also have great resources as mentioned above for students to succeed in school. So make sure to take advantage of them.
2. Connecticut State Library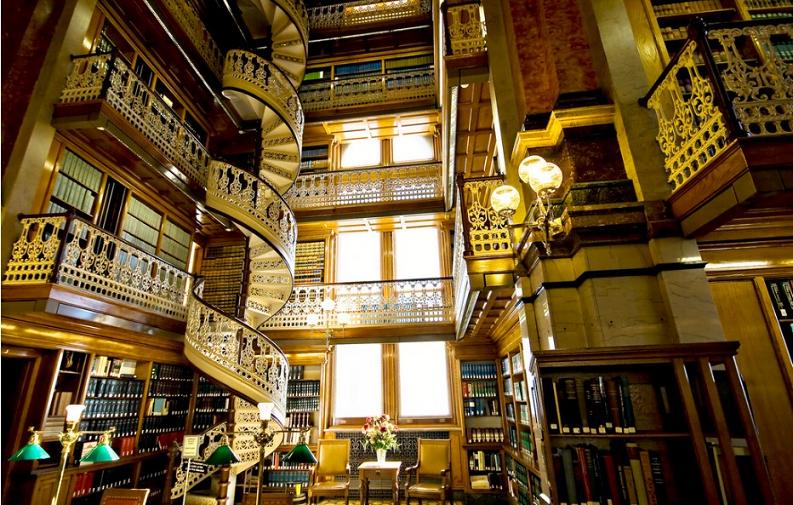 Connecticut State Library is known special for historical pieces. This will be a great place to learn and view some of the historical pieces that defines the state of Connecticut. Students that love to go to the library plus see some historical pieces of Connecticut, this would be the perfect place for.
3. Hartford Public Library
The Hartford Public Library is a beautiful place to do work at. They have a great selection of books and they are all spaced out. The library is welcoming to anyone. A plus for the students would be that you can get online education and research.
4. Welles-Turner Memorial Library
This library has a children section so for the students that have children, this would be helpful to keep them busy. For an added bonus there is free wifi so you can use your own devices. They also have a great number of magazines and books, so if you just want to have a seat and do some reading this would be the perfect place for you.
5. Wethersfield Public Library
This location has a good-sized parking lot, so lots of room. There is also good community events that go on, if you are interested in those you can join in. For studying purposes there is a great study space and a few computers that you can use.