The Residences at the University of Manitoba provides a rich variety of activities, services, and programs designed to meet students' social and educational needs. From academic support seminars to alcohol awareness campaigns, it's certain that the programming mandate has something of interest for everyone. Here are some of the top residences at the institution.
1. Arthur V. Mauro Residence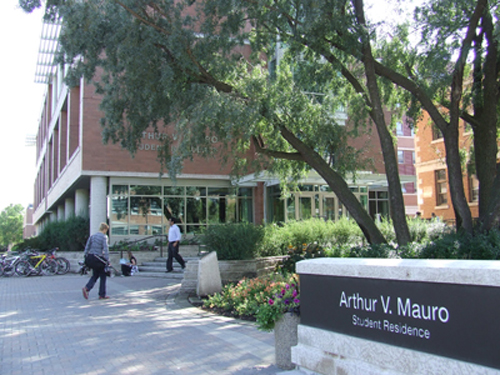 Residence Address: 120 Dafoe Rd W, Winnipeg, MB R3T 6B3, Canada
The Arthur V. Mauro Student Residence offers a little bit more privacy and a lot more choice. Centrally located at the junction of Dafoe Road and Maclean Crescent, the Arthur V. Mauro Student Residence has room for 316 students in 155 suites on a total of six floors. The building features two bedroom furnished suites with individual bedrooms and an in-suite washroom with shower; a kitchenette with a fridge, sink, and microwave; several common washrooms with bathtubs, cable TV service available (you must supply your own TV), lounges with TVs and DVD players, group-use kitchen with oven on the main floor and study room on most floors
2. Mary Speechly Hall (MSH)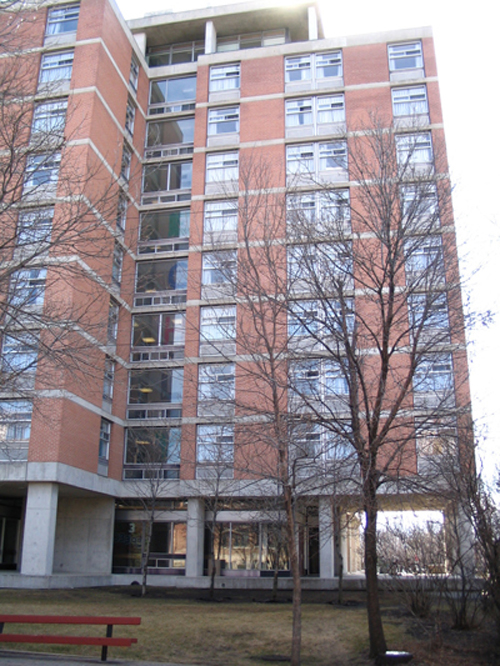 Residence Address: 34 Maclean Crescent, Winnipeg, MB R3T 2N1, Canada
Mary Speechly Hall is a co-ed residence offering residence to all students. The building features  rooms clustered in pods with a comfortable lounge on each floor with 30-40 students per floor. The 10th floor has a study area and lounge overlooking the Red River. There are single and double rooms with single beds, common washrooms with showers and bathtubs, free Internet in each room, laundry facilities in the basement, kitchen facilities and large multi-purpose areas.
3. Pembina Hall Residence (PHR)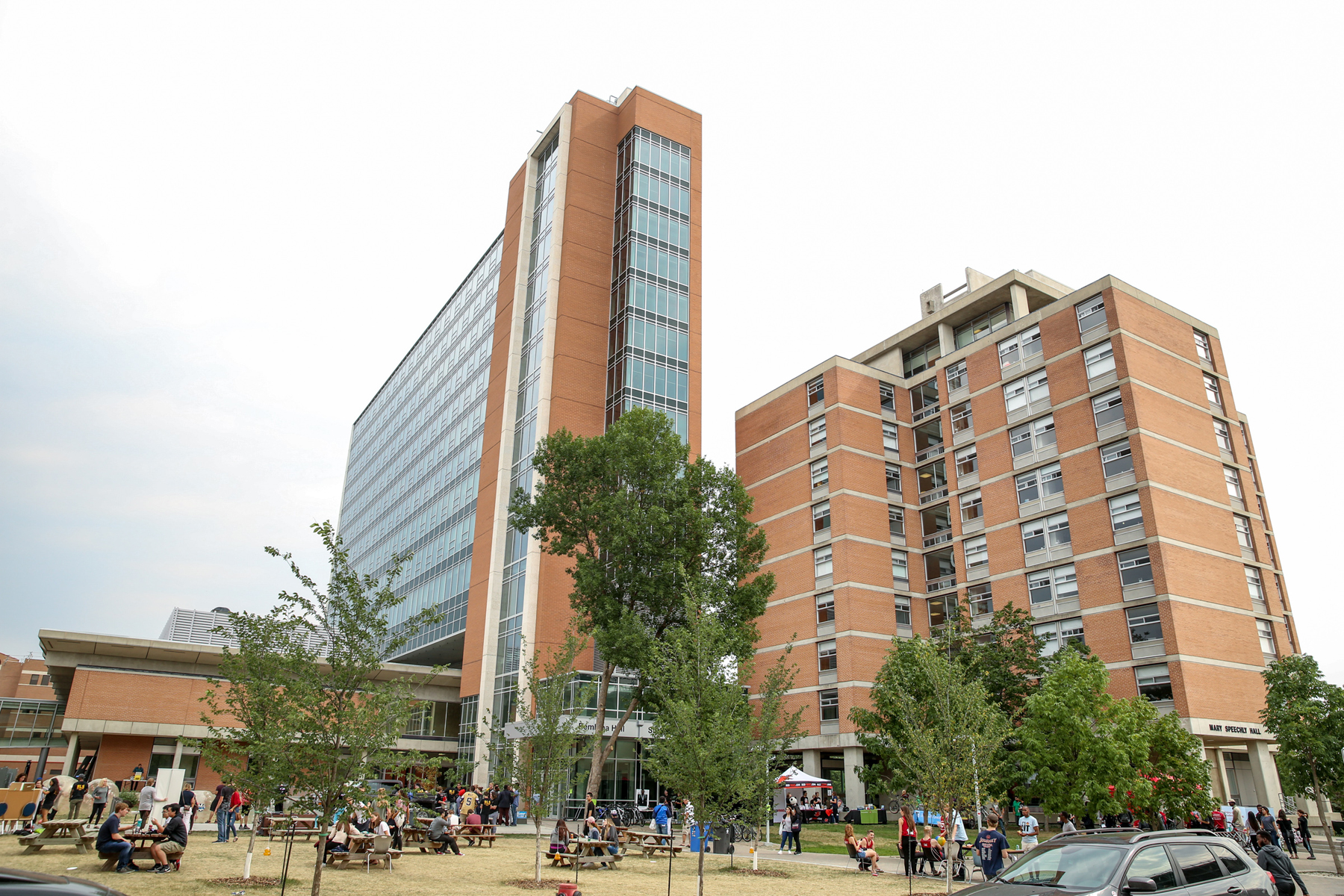 Residence Address: 30 Maclean Crescent, Winnipeg, MB R3T 2N1, Canada
Pembina Hall Residence houses 360 students in a contemporary, high-rise building situated above the existing Pembina Hall Building and Dining Room. All the 360 units are single rooms with an exterior glass wall providing plenty of natural light and excellent views of the campus to the north and the Red River to the south. Each room is complete with its own private washroom and shower. Free wireless Internet is available throughout the entire building with additional wired in-room options for Internet, television, and telephone. Each of the ten residence floors has a lounge with a kitchenette, soft seating, and a flat screen HD television. The lounge on the 4th floor has a fully equipped kitchen for community use. Laundry facilities are located on the second floor.
3. University College Residence (UCR)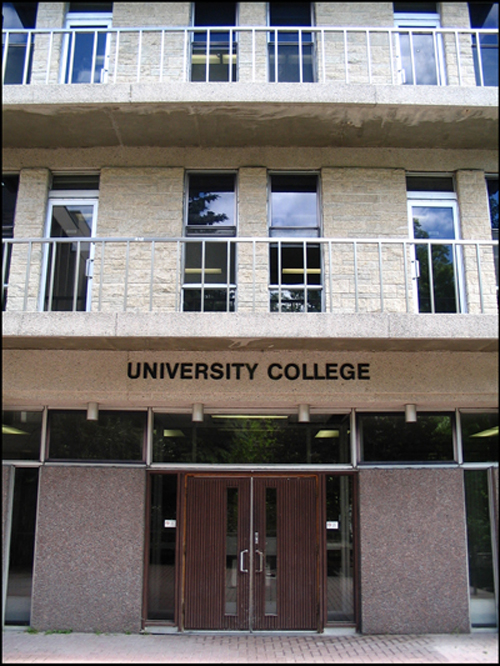 Residence Address: 220 Dysart Rd, Winnipeg, MB R3T 2M8, Canada
University College is a mid-size, co-ed residence with 236 single rooms and 10 double rooms. With 40 people per floor, there is a strong community and a small town feel. The building features single and double rooms are available with single beds, common washrooms with showers and tubs, pool table, ping pong table, study halls, classroom study space, furnished lounge on each floor, a tunnel access to campus, furnished games room (big screen TV with surround sound and DVD player and plenty of seating), a community kitchen, and laundry facilities.
5. St. John's College Residence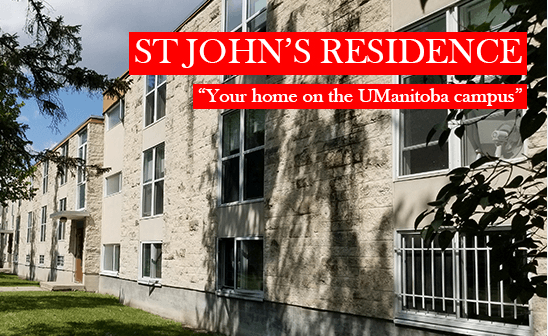 Residence Address: 92 Dysart Rd, Winnipeg, MB R3T 2M5, Canada
 St John's is conveniently located near the University Centre, and is ideal for people seeking a smaller community on campus, where academics and residence social life are balanced in a fun, safe, and secure atmosphere. The residence has reasonable and regular quiet/study hours, which all residents agree to follow. The residence also has an International Student Representative who helps international students with their particular needs and concerns.
6. Health Science Centre (HSC) – Medical Centre Apartments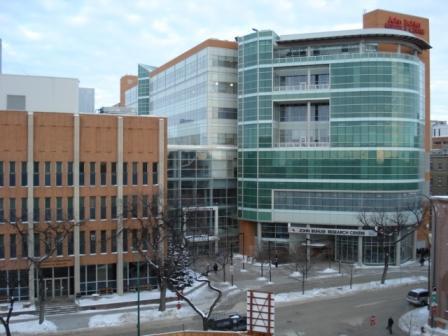 Residence Address: 720 William Avenue, Winnipeg, MB R3E 3J7
Although the University of Manitoba does not have any official Residences on the Bannatyne Campus the Health Science Center manages accommodations which are open to University of Manitoba Students studying at the Bannatyne Campus. Available to students of HSC or University of Manitoba campus only, HSC offers affordable rental accommodations, located at the Health Science Centre. Tenants can easily access both academic and professional areas of the HSC from the Medical Centre Apartments on Notre Dame Avenue at Emily Street. Suite sizes range from bachelor/studio size, to two bedroom apartments, depending on location and availability.
7. St. Andrew's College Residence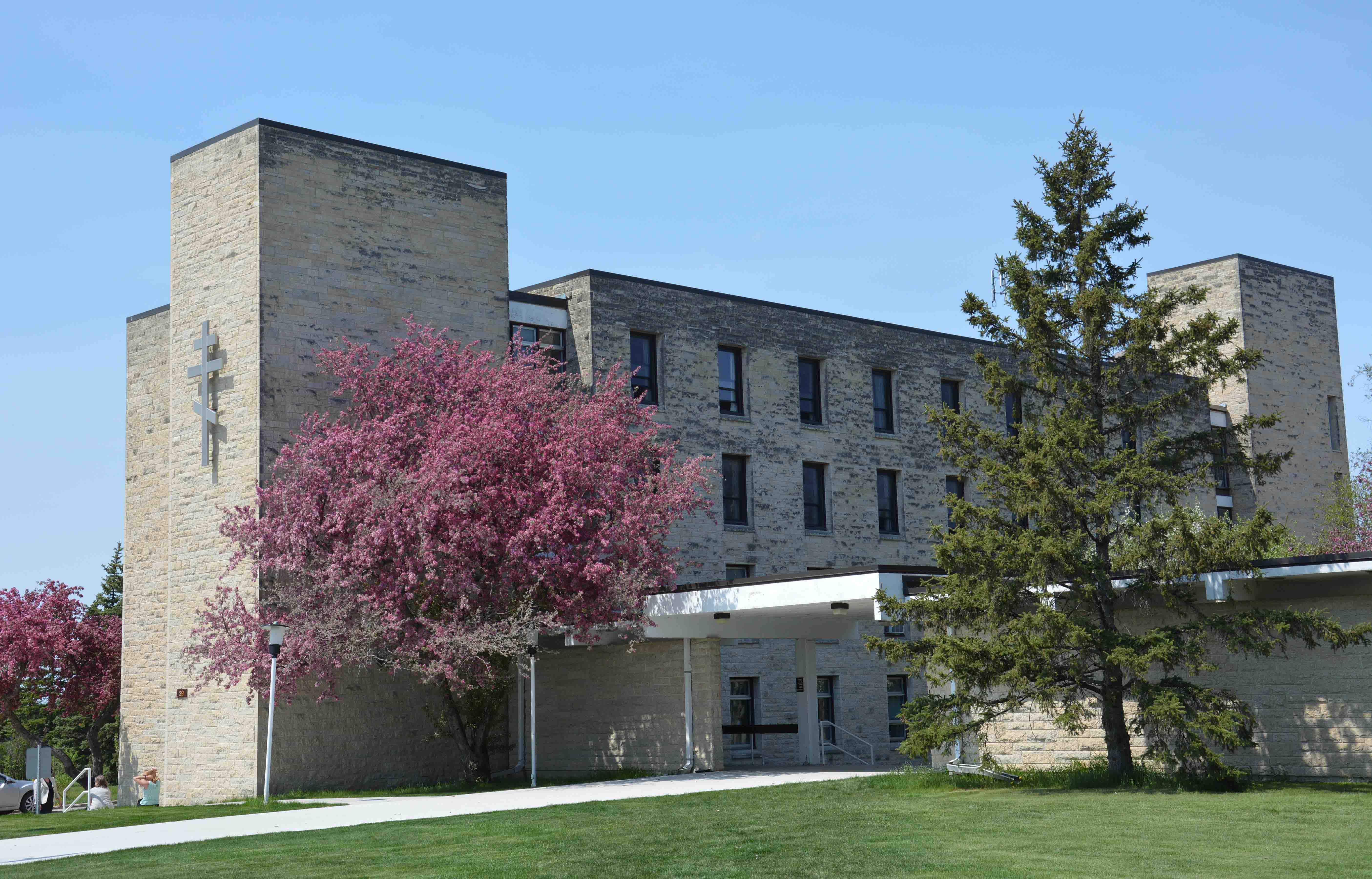 Residence Address: 29 Dysart Road Winnipeg, Manitoba, Canada R3T 2M7
The St. Andrew's College is affiliated to the University of Manitoba and provides accommodation and meal plans to students on the Fort Garry Campus. The rooms are for single occupancy, except for a limited number of double rooms.
8. Arden Hollows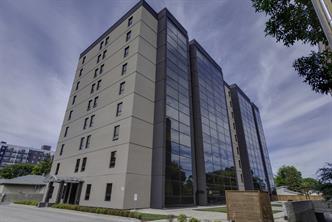 Residence Address: 15 Arden Avenue Winnipeg MB, R2M 2J8
Arden Hollows is close to St. Vital Shopping Centre, University of Manitoba and St. Vital Park. Completely renovated, each suite features an open-concept kitchen, maple hardwood floors, contemporary lighting, cozy fireplace, new appliances and chic bathroom. Also there are laundry Facilities, a common area patio and ample parking.
9. Fort Garry Tower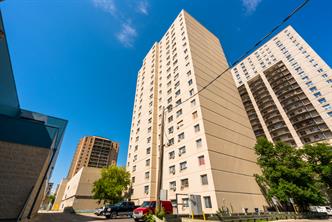 Residence Address: 70 Garry Street Winnipeg MB, R3C 3T9
Fort Garry Tower is located in the South Portage neighborhood of Downtown Winnipeg close to Portage Place Shopping Center, The Forks, Osborne Village and MTS Center. The building features newly renovated suites and beautiful views of the city, laundry facilities, on-site professional management, ample parking and storage Lockers.
10. Hargrave Place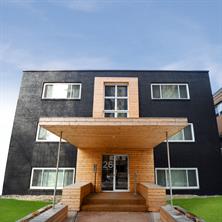 Residence Address: 26 & 45 Hargrave Street Winnipeg MB, R3C 1N1
Hargrave Place is located in the heart of the city near Broadway Ave, the Forks, Assiniboine River walking paths, Winnipeg Square and the University of Winnipeg and Manitoba. The renovated open-concept suites offer new laminate flooring, new kitchens, stainless steel appliances, custom cabinetry, new windows/blinds and modern bathrooms.
Here is your Move-In Day Packing List at the University of Manitoba
1. Room Basics
– Towel
– Wastebasket
– Closet organizer
– Shoe Rack
– Desk lamp
– Sheets, blankets, comforter and mattress pad
– Full-length mirror
– Posters
– Toiletries
– Hangers
– Plants
2. Food and Snacks
– Beverages (coffee, tea, Chocolate)
– Juice
– Biscuits
– East-to-cook food (pasta, spaghetti etc.)
– Fruits
3. Tech and Entertainment
– Laptop
– Game console
– Music player
– TV
– Headphones
– Radio
4. School Supplies
– Notebooks
– Exercise books
– Pens and Pencils
– Sticker notes
– Marker pens
– Paper clips
5. Cleaning Up and Organizing
– Mop/broom
– Hangers
– Storage containers
– Bucket
– Dustbin
6. Campus Gears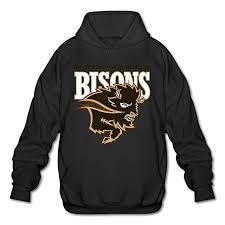 – Campus branded clothes (T-shirts, shirts, hoodies, and jackets)
– Bag pack
– Umbrella
– Walking shoes
– Sunscreen
7. Items You Should Ask First Before Bringing
– Pets
– Furniture
– Refrigerators
– Halogen lamps
– Hoverboard