College courses can be overwhelming, but the library is one place that works to serve the students. There are countless resources that Temple University students should take advantage of. Read on to find out how.
1) Librarian appointments
Set an appointment with a librarian to ask them questions about anything! From research help, citations, or just gettings started on a project, they're there to help. Most importantly, these appointments offer one-one-one time to ask all the questions you can think of.
2) Journal databases
Use the journal databases at Temple University to find sources for your next project. There's information for practically every topic imaginable. You don't even need to leave the house, as the databases can be accessed through the library website.
3) Access surgery/medicine/pharmacy
.
These databases are specifically tailored to information and research in medicine, surgery, and pharmacy. For biology and pre-med students, this can be invaluable. Just like the previous resource, it can be accessed online.
4) Refworks
This tool is great for large projects that require a lot of citations. Refworks is a citation management tool that makes it easy to keep track of and cite all the sources you use. Regardless of the citation style, this resource makes it easy!
5) APA/MLA style handbooks
APA and MLA style can be tricky and meticulous. That's why Temple University offers handbooks on the styles to help any student get an easy A. And, as mentioned previously, the librarians are available to answer questions.
6) Exam prep
For that upcoming midterm, quiz, or even final, there's resources for every kind of student. There are resources online and in person. To utilize them, head to the library website today.
7) LexiComp
LexiComp is a database that specializes is information on prescriptions, drug trials, and medicine. Similar to Access Surgery, it's great for research in biology, pre-med, and related classes. Best of all, it's free to any student online!
8) Study spaces
Whether you're looking for a community space for a group project or study session, you can find it at the library. From group study sessions to midterm presentations, they're perfect for every group. Go online to reserve your space.
9) Print and copy
Even in the 21st Century, printing and copying is a necessity for most classes. Printing does cost a small amount of money. However, it's fast and easy to do at the libraries on campus.
10) Borrow e-devices
Computer broken and have a paper due soon? At Temple University, you can borrow laptops, tablets, cameras, and other devices to help you with your next project or assignment. Simply ask at the desk.
Libraries at Temple University
1) Samuel Paley Library
This is the main library on campus and offers a plethora of resources, as listed above. It holds the majority of the books at Temple. Additionally, it houses the many administrative offices, where you'll find meeting with various people and librarians.
2) Beasley School of Law Library
This library is open exclusively to law students. But, if you find yourself in law school, it's the perfect space to study. The resources are made specifically for law students to help them succeed in their schooling.
3) Charles Library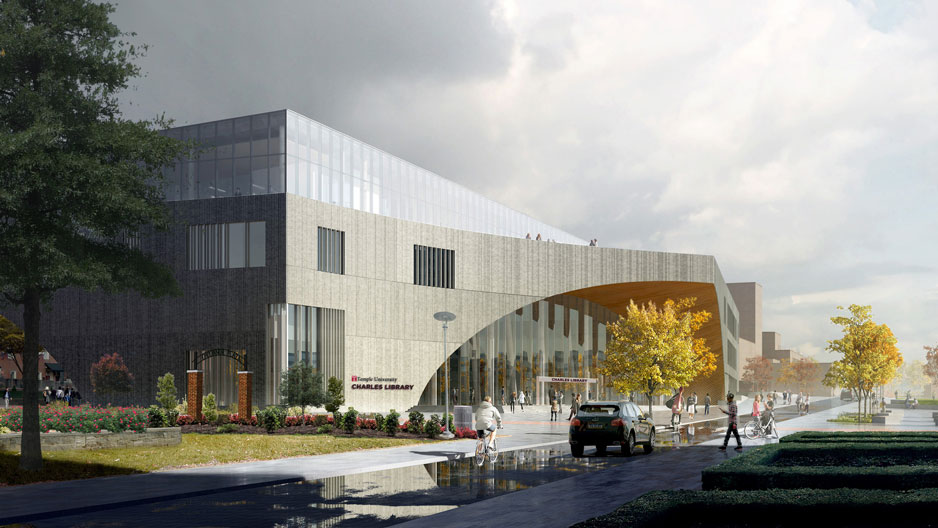 This library is currently under construction. However, it is expected to be finished soon for one of the next incoming classes of freshman. Time will tell what exciting modern resources it will house!