Baylor University consists of many unique libraries and offers many different library resources. These libraries house a diverse amount of manuscripts and materials related to history, art, and technology. They also offer many resources to the students. Here are some of the important library resources you need to know.
1. Electronic Resources

Baylor University offers a variety of electronic resources. The most common type that is used by students is library databases which help with research assignments. Other electronic resources include the BearCat catalog and e-journals.
2. Ask a Librarian

Need help navigating the many libraries of Baylor University? Well, librarians can help! Baylor University offers an "ask a librarian" resource. This resource allows students to ask librarians for help whether they are in the library or not. Students can use this resource to help find materials and get help with databases.
3. Library Books

Of course, every library has books and the Baylor Libraries are no different. Baylor allows its students to check out library books. There are many books ranging from pleasurable reads to reliable research sources.
4. Printing

Baylor University offers printing resources at their libraries. Printing is available to all students when needed at a low price. You can even print from your laptop and smartphone.
5. Distance Users

The library also offers services to distance users. Distance users are students that live away from Waco but are still enrolled in Baylor classes. Distance users can request document delivery and use interlibrary services.
6. Graduate Research Center

The Graduate Research Center is a space designed for graduate students to focus on their studies. The center supports grad students by having collaboration rooms and lounges. It is a great place for graduate students that need a quieter space to focus on their studies.
7. Research Assistance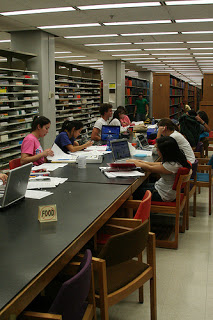 For students that need help with their research or just do not know where to begin, there is research assistance offered. The service is free for all students and faculty at Baylor. You can get help with most classes and research projects.
8. Library Study Commons

The Library Study Commons is a space for students that need to study. Each library in Baylor has its own common study area. The study areas are good for students since it allows them to be productive.
9. Study Rooms

Each library offers study rooms for students who have group work. The study rooms are designed for groups to work on projects and presentations in a quiet and more private area. Study rooms are available on a first come, first serve basis.
10. G-42 Classroom
An important library resource would be the G-42 classroom. The G-42 classroom allows for a classroom-like setting with big study groups. Like study rooms, the classroom is available on a first come, first serve basis.
Libraries at Baylor University
1. Armstrong Browning Library

The Armstrong Browning Library is a very beautiful, 19th-century style library.  The library is also a museum and is dedicated to the work of 19th-century poets Robert and Elizabeth Browning. The library houses the largest collection of Browning material and other rare 19th century materials.
2. W.R. Porage Legislative Library Center

The Porage Legislative Library Center is located near the central libraries.  The library consists of Baylor University's legal collections and the Graduate Resource Center. The library is devoted to the political history of Texas.
3. Central Libraries

The Central Libraries consists of two libraries: Moody and Jones. The Central Libraries are the main libraries on-campus for students. The Moody Library has conference rooms, gardens, and a Starbucks. The Jones library has a conference room and is smaller than the Moody Library.
4. Crouch Fine Arts Library

The Crouch Fine Arts Library is different from other libraries and is an art library It houses the music and visual arts collections, as well as audio and video recordings. The library is recognized as a distinguished library and houses material going as far back as the eleventh century.
5. The Keston Center for Religion, Politics, and Society

The Keston Center is a unique library at Baylor University. The library houses the religion and teaching of the former Soviet Union and other Communist regimes. The library contains the world's biggest collection documenting religious persecution. Materials also include underground publications and rare trial transcripts.
6.  Library and Academic Technology Services

This library is designed for academic technologies at Baylor University. The library is really new and was only built last year. The library houses academic technology and student digital services for students.
7. Caroll Library

The Caroll Library is another interesting library at Baylor University. The Carroll Library houses some important material related to Texas heritage, history, and culture. Materials include Civil War manuscripts, photos, and maps.