One of the top sports colleges in all of the nation, the University of Florida has been home to some pretty athletic Gators. They've also been home to some pretty academic Gators, too. Here are the top ten professors who love to do "the chomp."
1. James Goodwin
Rating: 5.0
Department: Languages
Courses Taught by Professor Goodwin:
RUS3452 – Learn More
Student Reviews of Professor Goodwin:
"Of all the professors I've seen at UF so far, Professor Goodwin is the best example of what you would expect in a university instructor. He is passionate about his subject, and cares a lot about the students. Do the assigned readings and look over the study guides, and you'll do well on the tests. I'd definitely recommend his class!"
"Dr. Goodwin is a model professor. I've taken him 4 times now in both Russian Language and Literature. He is accessible, understanding, caring, and clearly loves what he teaches. I think that he's by far the best professor that I have had at UF. I have received A's in all of his classes, and I would not characterize them as very hard."
"I've taken 3 of his classes and am signed up for my 4th for next semester. I would take anything he is teaching. SUPER understanding!! Embodies everything a professor should be."
2. Ingrid Kleespies
Rating: 5.0
Department: Languages
Courses Taught by Professor Kleespies
RUS1131 – Learn More
Student Reviews of Professor Kleespies
"Extraordinary professor. Incredibly passionate about Russian language/literature and so knowledgeable. Very fair grader as well. Lets students learn at their own pace. Very accessible outside of class and through email. Lots of room for extra credit improvement. Would take again."
"Best professor ever. Dr. Kleespies is smart and caring. She really wants her students to learn. You can tell she loves teaching! I decided to take two classes with her this semester and I was constantly thinking and practicing. That being said her classes take a lot of work, but if you are willing to put the effort in you will be just fine!"
"I loved this class! It's hard enough reading War and Peace, but she made the class so interesting that I would gladly read it again. It was difficult reading 50 pages every two days, but completely worth it. She is very knowledgeable on Russian history and literature."
3. Brandon Fantozzi
Rating: 5.0
Department: Business
Courses Taught by Professor Fantozzi
ENT3003 – Learn More
Student Reviews of Professor Fantozzi
"You are very helpful and easy to get in contact with about any question we have in regards to our class and homework."
"You are great!"
"He was very helpful!"
4) James Leary
Rating: 5.0
Department: Engineering
Courses Taught by Professor Leary
ABE4905 – Learn More
Student Reviews of Professor Leary
"Dr. Leary was a pretty good teacher and is a great all around guy. If you go into this class treating it like a normal class at UF you should easily get an A just do all the assignments and all the extra credit and your golden."
"One of the best professors at UF!"
"Dr. Leary is my advisor and has been my professor several times. He is probably the nicest person you will ever meet. He can be vague at times, but has no problem clarifying anything for you. I would recommend taking his class anytime, and talking to him for any problems you have at UF."
5) Teresa Benitez
Rating: 5.0
Department: Engineering
Courses Taught by Professor Benitez
EML3100 – Learn More
Student Reviews of Professor Benitez
"Best professor I have ever had. I had some personal issues and she helped me through everything. There were six exams and about 10 homework assignments, and we built a model of a combustion engine which was awesome. I recommend her without reservation."
"Best prof ever! Never gets boring with her."
"Benitez is one of the nicest profs I have ever had. The class isn't easy, but she is always willing to help and will answer emails ASAP. She really knows the material and goes the extra mile to make it easier to understand and remember. She is my favorite prof that I have had so far. Attendance is extra credit on random days. Best class ever."
6) Kenneth Kidd
Rating: 5.0
Department: English
Courses Taught by Professor Kidd
LIT4930 – Learn More
Student Reviews of Professor Kidd
"Kidd is a very funny and lighthearted professor who likes to make class discussions casual and entertaining. He always chooses fresh YA or kid lit books so they don't put you to sleep, although I can't say that about the related articles. He does need full class participation or it gets awkward, and beware of pop quizzes. I'd take him again!"
"Professor Kidd is one of the kindest and most caring English professors at UF! He's always willing to help, he cares about student opinion, and he grades fairly. If you talk to him during office hours and email him about your essay assignments, he'll give you feedback until your paper is A worthy. So, be sure to utilize those resources!"
"By far my favorite English professor at UF. He's funny, engaging, and makes the class interesting by picking books that get the students talking! He's very thoughtful when grading papers and gives great feedback. The assignments are straightforward. New book every week, but that's English for you. I will be taking him again and I can't wait!"
7) Perihan Saygin
Rating: 5.0
Department: Economics
Courses Taught by Professor Saygin
ECO3203 – Learn More
Student Reviews of Professor Saygin
"Probably among the best professors in UF! She made an otherwise theoretical course very pleasing to learn! Excellent teaching skills and extremely knowledgeable in her field! Very clear explanations and her exams are neither too hard or easy! She also offers the occasional extra credit to boost your grade! She made me enjoy learning macroeconomics!"
"Professor Saygin is the best UF teacher. She cares so much about her students and shes very fair and understanding. She's always there if you need her help. The material is pretty hard so of course you need to study hard. She's sweet but dont get on her bad side. She's very real and honest, which is why she's awesome!"
"UF is lucky to have Dr. Saygin. She cares about you not only being able to pass the class, but also take something away from it. The material is interesting and at a moderate difficulty. If you need help ask, but make sure you pay attention during class because she will call you out. Her exams are fair and the class was a joy to take."
8) Amanda Reynolds
Rating: 5.0
Department: English
Courses Taught by Professor Reynolds
ENG2210 – Learn More
Student Reviews of Professor Reynolds
"Very nice, enthusiastic, and smart. Not bad to look at either."
"Amanda is still one of my favorite professors at UF– she is easygoing, passionate about what she does and wants to make class as fun as possible, like having class outside, etc. Our final was a dinner party at her house where we turned in our portfolios and drank wine. Young, nice and cool, too."
"Incredibly nice, very easygoing, and knows what she's talking about. Very approachable!"
9) Laurie Taylor
Rating: 5.0
Department: English
Courses Taught by Professor Taylor
SLS1102 – Learn More
Student Reviews of Professor Taylor
"Laurie was so nice. First year Florida was a snooze but she tried to keep it interesting. Evan was the peer mentor and I loved him. He was awesome. They made a great team."
"She is the most caring and understanding teacher I have met in UF thus far. truly a great thing to have her."
"FYF was a ridiculous class but Laurie tried to make it fun by bringing up awesome topics and giving plenty of ops for extra credit. She is easy to go to with concerns on grades, etc and is always willing to help. Great prof!"
10) Tamer Kahveci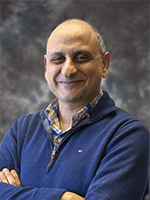 Rating: 5.0
Department: Computer Science
Courses Taught by Professor Kahveci
CAP5510 – Learn More
Student Reviews of Professor Kahveci
"What an awesome guy. Love his way of teaching."
"He is the best."
"He is clear about his expectations from the students. The content taught by him is useful in the field of computer science in general as well, as the algorithms he teaches in class are generally applicable in other problems of computer science. Has a really good sense of humor, and keeps the lecture fun and interesting throughout."
Notable Research Projects per Faculty at Florida
1) Stopping Fake Pills by Steve Orlando
Faculty: Engineering
On the surface, it might seem like the only detriment to taking fake medicine is that you were scammed out of your money. However, there can also be some medical downsides, as well. Orlando's research has developed a way to detect whether or not pills are what they claim to be.
2) Cancer Cell Growth by Kevin Butler
Faculty: Engineering
The security of your Smartphone is something every user is concerned about. However, the security is so easily breakable, apparently, that Smartphones are almost always having two users at a time: you and a ghost user. Butler's research is concerned about cables that people plug into their phones.
3) Vaccination Myths by Amanda Sams Bradshaw

Faculty: Medical Studies
Unfortunately, many people are quick to believe myths about vaccination. However, this leads to dangerous illnesses that could pervade children. Bradshaw's studies show that if doctors address the myths surrounding vaccination before the baby is born, then the health of the child will be maintained throughout the infancy.
4) Bats and Fireflies by Marc Branham
Faculty: Biology
Despite the wide array of creatures that belong to the diets of bats, scientific researchers noticed one thing that the bats do not eat: fireflies. However, Branham thought that there might be a connection between the two animals that goes way back in their history. He learned that fireflies are not eaten by bats because they developed their lights through evolution to avoid being eaten.
5) Helping Turtles by Cathi Campbell
Faculty: Conservation Biology
Cathi Campbell's research surrounds one of the ocean's most beloved creatures. Their main goal to help these turtles is to help clean up their environments. For example, the scientists removed over twenty-five tons of fishing gear from the environments of the turtles.
The University of Florida boasts "the Swamp" on the athletic fields, but these research projects certainly rise above Swamp-quality.