If you're paying a lot of money for a college, you definitely want to be sure that it has nice facilities and buildings. For some people, having a nice campus is an essential. With that being said, here's 5 buildings at Purdue you need to know.
1. University Hall
University Hall is a classic sight on Purdue's campus. Every student knows it, as it stands out from the rest of the buildings. This is the only original Purdue building that still stands past its construction in 1874.
2. Memorial Union
Purdue's Memorial Union Hotel is another iconic, beautiful building on campus. It opened in 1924, and today it is a hub for student and community life. This building acts as a hotel but also a public building with restaurants, a bowling alley, and more.
3. Elliot Hall
The Elliot Hall of Music is one of the top 5 college theaters in America. Elliot Hall was designed by the same architect who made the Radio City Music Hall in New York. This building hosts the school's music groups, as well as many guest performers.
4. Bell Tower
The Purdue Bell Tower is a huge landmark on campus. It houses the original tower's bells after it burned down in 1894. It is said that any student who steps on the seal below the tower before graduation will not graduate in 4 years, so be careful!
5. Ross-Ade Stadium

Purdue is a renowned sports school across America, so it's only fitting that they have an amazing stadium to go with it. The Ross-Ade stadium can seat nearly 60,000 people, and is a hotspot for Purdue students and fans alike.
Interesting Facts About Purdue University
1. The Drum
Purdue's massive drum, A.K.A 'Big Bass Drum', is actually the world's largest drum! It is 10 feet tall and has a crew of 4 people who attend to it during games, and 2 drum players.
2. Airport
Having an airport near your school is a pretty basic need, especially if you live far away. Believe it or not, Purdue actually owns its own airport! This is the first university owned airport in America, and also the second largest airport in Indiana!
3. Aviation
Purdue seems to really like planes, because they also offer the world's first 4 year Bachelors degree in Aviation! Purdue is well known for its aerospace and engineering program, so this is a great school for anyone into aviation!
4. Rivalry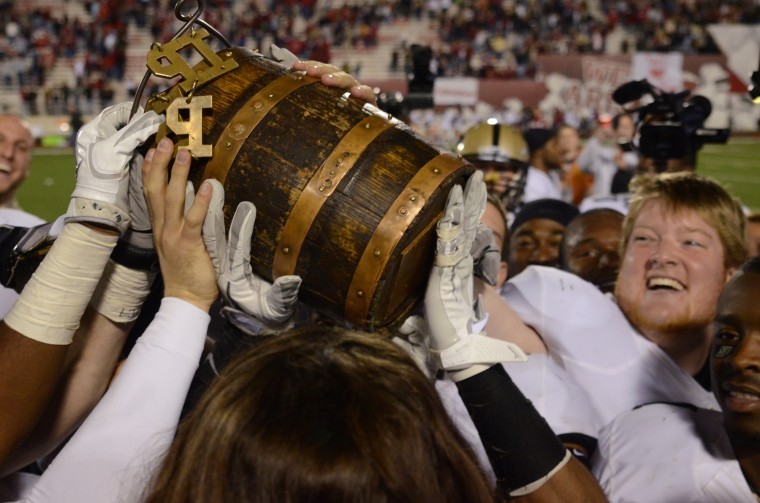 A massive college rivalry in the U.S is between Purdue and Indiana. In fact, both teams compete for a certain trophy! This trophy is called the Old Oaken Bucket and the tradition of fighting for it has persisted since 1891.
5. Nuclear Reactor
Purdue is one of the 24 American universities that have nuclear reactors. Inside the engineering building lies a 17 foot deep nuclear reactor! This is also the first and only nuclear reactor in Indiana.