Much has been written about all the beautiful fountains, landscaping, and architecture on Baylor's stunning campus. However, another significant landmark to see and appreciate would be the statues. Scattered in various parts of campus, statues have been erected and stand tall in order to pay homage to important figures in the Baylor community who shaped it in one way or another. Let's take a look at which memorials there are to make your way to and even snap a picture with if you want.
1.The Pyfer Bear Statue
This 9- foot, bronze statue of a bear is located in front of the SLC, an are frequented constantly by Baylor students on their way to classes. It was sculpted in honor of the first ever Baylor mascot and dedicated generously by his niece (who also did it for her parents) who are all Baylor alumni. It is the biggest statue ever made by its sculptor Douglas Crow (who also happens to be a Baylor professor).
2.Robert Griffin III Statue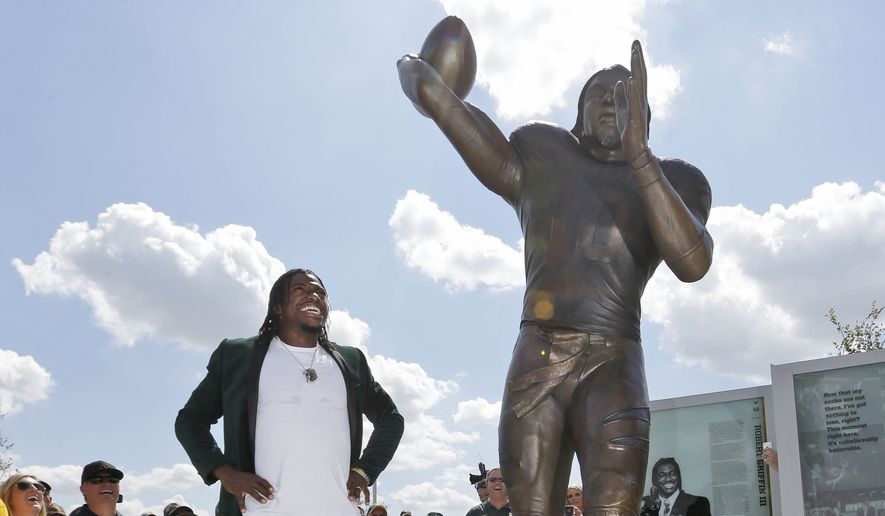 This statue is of the most legendary football player of all time at Baylor and is located front and center at the entrance to McLane Stadium. Robert Griffin III became such an all-star and icon because he is the first ever Bear to win the Heisman Trophy and make the amazing stats he did. Of course, he went on to a career in the NFL playing for various teams.
3.The Immortal Ten Statues
These statues in front of Pat Neff Hall pay respect and preserve loving memory of the ten Baylor students who died in a tragic accident in 1927 on their way to a basketball game they were supposed to play in Austin. This was one of the first American athletic tragedies and it was caused by a trainwreck. Among these 10 individuals whose lives were taken too soon was a heroic boy who actually pushed his friend and teammate out of the bus window in time to save his life at the expense of his own. The Immortal Ten are remembered through this monument and through an annual ceremony of remembrance that is held every year at Homecoming for the freshmen.
4.Rufus Burleson Statue
The statue of Burleson can be found in front of Old Main in his own area called the Burleson Quadrangle. Burleson was a Baylor president who served two terms and insituted coeducation here. He also was a pastor who baptized many important figures like Sam Houston, the man who led the battle for Texas' independence and later its entrance into the United States. Burleson also has a city in Texas named after him, so it makes sense that Baylor would want to pay dues to this particular president.
5. Judge Baylor Statue
The statue of Judge Baylor is probably the most famous statue on campus. This 12-foot bronze statue situated on pink granite depicts the founder of the University. It is located on Fountain Mall and is a popular place to take pictures at and pose in front of him, or even join him on his pedestal or sit on his lap like many students do.
All these statues represent important people (or animals) that capture some aspect of what Baylor is all about and takes pride in. These are typically passed by daily by students without a second glance as they go by their busy days here in their familiar surroundings they get used to. However, it is crucial to stop and appreciate these statues that are taken for granted at times and to be grateful for those who pave the way for you and are an emblem of Baylor's roots and identity.
This sketch is a rendering of a partition wall in Cultivate7Twelve which had several works of art hung mounted on it.