East Carolina University truly cares about the safety of their students. The institution is located in Greenville, North Carolina, which doesn't have a reputation for  being the safest. However, the university does a great job keeping their students safe and secure through many on campus resources.
1. ECU Alerts
East Carolina University offers a text and email service called ECU alert. This service provides students with updates if there is any crime in the area surrounding campus. ECU Alerts also notify students about upcoming weather conditions and class delays. This service is available for students and parents so that everyone can be updated of campus/Greenville conditions.

2. Blue Lights
There are blue lights scattered throughout East Carolina's campus. These lights have a button on them and an intercom that if pushed will directly call the ECU Police. If a student ever feels unsafe or if they are being followed, they can use this service. The rule of thumb is if you are looking at one blue light, you should be able to see another one, so they are scattered all around campus.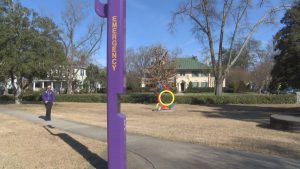 3. ECU Police
East Carolina University has their own police department located on campus. These are fully trained officers that are available to assist students if they ever feel unsafe. The department works different campus events like football games, basketball games, and Student Activities Board events. These officers are also fully capable of giving tickets and other charges, so students should be on good behavior.
4. Joyner Library Security
Right in front of Joyner Library at the entrance is a large security desk with cameras displaying the entire building. These security officers will escort you to your dorm or car if it is after dark and you feel unsafe. After 11 pm, only ECU students are allowed in Joyner library and your student ID must be shown in order to enter. The security officers remain in the library whenever it is open (24 hours).

5. Bus Services & SafeRide
If you do choose to partake in going downtown over the weekends, ECU Transit has you covered. Buses run to and from apartments on weekends from 10 pm to 2 am to prevent drinking and driving. SafeRide also operates after these hours and will take students back to apartments or dorms if they feel unsafe and the buses are not running. This is a great addition unique to ECU that allows students to have fun and stay safe.

Overall, even though East Carolina University is located in an area that does have some crime, the institution does a good job making sure its students are safe. The university provides many resources for any student or parent who is concerned about the area. If anyone ever feels unsafe on campus, there are multiple actions they can take to get assistance!