East Carolina University is an amazing institution located in Greenville, North Carolina. The history of the University is very interesting, and since 1907 ECU has been trying to put themselves on the map as one of the best national universities. The institution has many qualities that makes it unique, here are some of the most interesting facts:
The Colors
In 1909, East Carolina University students were asked about the school colors. The students were able to vote on many different color combinations.  Purple and gold won the vote because of the amazing Eastern North Carolina sunsets (with common hues of dark purple and mustard yellow).  Even then, ECU believed in democracy and engaging students for their opinions!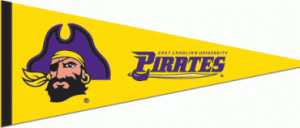 Mascots over the years
When East Carolina University was first established, the mascot was a Great Dane named "Buc". Then, in 1968, a large white poodle became the mascot of East Carolina Teaching College (ECTC). Finally, East Carolina University adopted the Pirate as their final mascot due to the school's close proximity to the coast. Once the mascot was chosen, local elementary school students competed in a contest to name the pirate.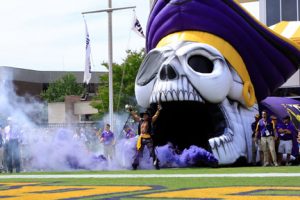 The Canon
At the start of every football game, a canon is fired to symbolize the beginning of a battle. This began in 1967, and in 1984 the staff decided to fire a canon every time a player scored to boost crowd morale. This has become a large tradition at ECU, making the teams entrance and all quarters of the game very interesting and unique.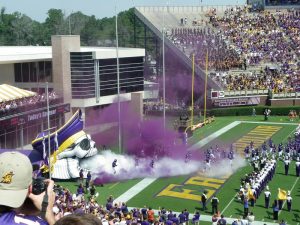 No Quarter
East Carolina University's slogan is "no quarter". This was drafted because if pirate ships would refuse to surrender, they would lower the Jolly Roger flag and raise a no quarter flag, meaning they would offer no mercy. At every football game, during the third quarter this flag is raised. Beginning in 2017, the pirates had a large no quarter flag that covered the entire Boneyard raised by students.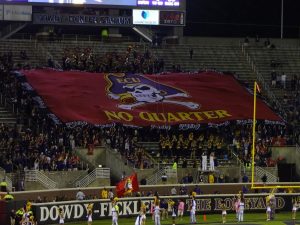 The Mall
The Mall at East Carolina University has not been changed since the institution was established. All dorms are still there and trees are planted in the same spots. The Cupola was added as the orignial burned down in a fire. Also, outlets have been added to two of the trees so that students can study and charge their phones and computers.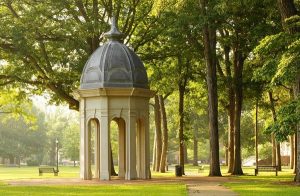 Overall, East Carolina University has many qualities that makes it a unique place to attend college. The history of the University is one of its most amazing qualities, and it is important for students to know how far their school has come. Over the years, ECU has changed for the better and become even more unique!