From the movies and shows, we know that as a college student, spending money can be on the low side. With parents paying for your massive Baylor tuition bill, you may need another source to get those late night snacks and fund those shopping sprees. However, being a college student, especially if you're a freshman, you might not have a car or time to commute to some fast food or retail place off campus. Amazing opportunities at Baylor such as Federal and University work-study are available to students to help with such problems. Here are just a few of the many jobs you can get at Baylor:
1. Baylor Call Center
Looking for a fun job with great hours and amazing co-workers? The call center is the place to be! Here you are making calls to Baylor Alumni, asking them for donations to help with scholarships that helped them, and you, with paying for tuition at Baylor. You get to see how their experience was at the University and have great conversations with some Alumni. And sometimes, you just get the answering sheet and all you have to do is listen to the ringer as you color or do your homework or just talk with those around you. They even play Netflix while you are on the job!! This is such a chill environment and you won't be sorry you took the job. Getting paid for this? Easily the best decision you made!
2. Chapel Student Leaders
Everyone is required to take 2 semesters of Chapel while attending Baylor, and you can get paid for it!!! Chapel needs people to help direct students to seats, make sure everyone is being respectful, to take phones away, and to make sure everyone swipes their ID on their way out of the chapel. Even when you have to attend chapel, you can get paid for working your own session. Getting credit for a class and getting paid? Seems like a pretty sweet deal. $10/hour and there are nine sessions a week, so plenty of opportunities to earn some cash for all you fun expenses during college. Apply as soon as possible to get this sweet gig!
3. SLC Employee
This is one of the best jobs you could ever snag at Baylor, so if you plan to do so, do it fast! At the Student Life Center, most employees just have to swipe students in or even just sit and watch students enter and exit the gym. This is really a relaxing job, where you can bring homework or talk to fellow co-workers/friends and just hang on your phone. You want this job, it has great hours and does not feel like you're working at all! Many students want this, so make sure you apply soon so you can get a spot working and making some good pocket money for all your latest adventures around Waco!
4. CL
Though this is not a job that you can get your freshman year like most other jobs, it is an amazing job with great benefits and gets you super involved here at Baylor. Community Leaders are what most people call RA's, they are non-freshman students who are just there for the new freshman in their dorms, in charge of the hall, a person you can go to ask any question or favor. You create activities to create a bond with your hall of boys or girls and just ensure that they are following rules and adjusting to their new lifestyle well. In order to get this job, you must submit an application near the end of your fall semester, and if you are accepted, you will go through a couple of groups and separate interviews, and if you pass, you will have to take a couple leadership classes. If you complete these classes you will most likely become a CL at Baylor. If you do, you receive free room/board and get paid to live and just work the front desk. It is a process, but definitely a rewarding job!
5. Desk Assistant
If you are just looking for a chill job that you need soon, where you will be able to sit and answer phones, look at emails, and do a bunch of office work, being a desk assistant is a great way to earn money. There are so many different offices around campus that are in need of student's to work the desks for them and make sure everything runs smoothly. All you have to do is go to Job Listings on Baylor's site and look at the many variations of Desk Assistant jobs that you could take and email the supervisor about an interview, as simple as that! A great way to earn some extra cash and a booster for your resume.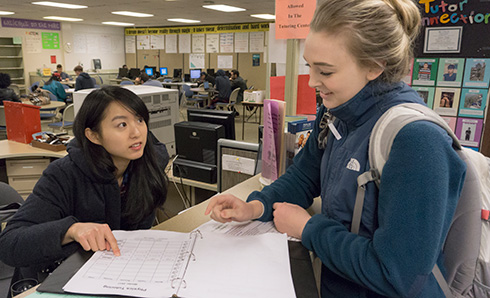 We have all been in a place where money is tight and we are looking for different, easy ways to earn some extra cash. These are great ideas for you, as a full-time college student, that you can try to make some more money without stressing too much with trying to balance you school, social life, sleep and work. Good luck!