Choosing which college to attend is an exciting (but super stressful) decision. North Carolina has so many different options to choose from, and they all are fantastic! However, East Carolina University has so many benefits that make it one of the top choices for students! Here are some of the best qualities about ECU and why you should attend:
It's affordable
East Carolina University has been voted one of the most affordable Universities. With low tuition costs, and a recent tuition freeze, the price should stay stable for the next few years. Each year, students will pay approximately $4,400 for tuition each year. Including room and board and all other fees, it costs approximately $21,000 dollars to attend ECU. This is very competitive with other Universities, especially since many of the dorms have been recently remodeled.

Greenville is Pirate Nation
An amazing thing about East Carolina University is that it is located in Greenville, North Carolina. Greenville is a very supportive community and loves being a part of Pirate Nation. Many students will receive discounts at local restaurants and retail locations since they go to ECU. Anywhere you go around town has ECU apparel and supporting signage. Even the fire trucks are purple and gold. Alumni are also very supportive and love hiring ECU students as interns and new employees.

Professors are Supportive
All professors at East Carolina University are required to have at least five hours a week where they are in their office for students to come ask questions. Although the student:teacher ratio at ECU is 18:1, sometimes there is not enough time in class to ask everything, which is why this time is set aside. Professors are also very willing to make appointments to meet with students because they genuinely want you to learn.
There is something for everyone
The campus at East Carolina University is the perfect place to make you feel at home. Whether you want to join a sorority or a service organization, with over 500 clubs you will find something for you. There are also hundreds of options for different majors, and many different resources to help you make that choice. After you get adjusted to college life, ECU will allow you to have some of the best years and memories.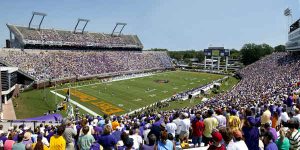 Making the decision of what college to attend is not something that you should take lightly. Be sure to research different schools and know what you can afford and who offers what you need. East Carolina University is an amazing place full of outstanding people. Apply today for the best years of your life!