When emerging yourself into the college life, it is important to truly get involved and make the most of your time there. Joining in on events and fun things around campus is a great way to do this! Baylor is always having fun events going on all the time and there are a few that you cannot miss, especially as a freshman. Immerse yourself in the Baylor Bear tradition and get involved as soon as possible!
1. Football Games
There is literally nothing as exhilarating or spirited as a Baylor football game. As a freshman, you get the opportunity to run the line, just a sea of freshman running across the field before the game starts, forming a huddle for the players to run through. This gets those on the field and in the crowd pumped for the start of the game. The amount of "Sic 'ems" yelled are too many to count and the cheering is ridiculously energetic and fun. Whether we win or lose, it's always a fun experience to be a part of. And make sure you get a picture with Bruiser the Mascot before the season is over!
2. Dr. Pepper Hour
Dr. Pepper is right of passage at Baylor, as you visit the Dr. Pepper museum or simply enjoy a float at the Student Union Building, this amazing soda created in the heart of Texas is a must!  Every Tuesday at the Student Union Building, Dr. Pepper floats–though they sound gross, they are actually quite amazing – are distributed for free to students. You can also receive a punch card and if you go to a certain amount of Dr. Pepper hours, you can get your name on the Dr. Pepper Hall of Fame in the SUB, which is super cool! Trust your fellow students, this is the place to be on Tuesdays. And if you're lucky, there will be games and fun stuff to do, and maybe even the President herself!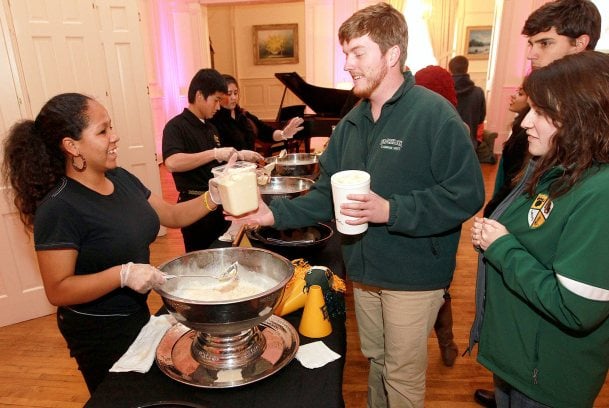 3. Late Night
If any event is going to get you fully involved in the Baylor life, it is going to be Late Night!! Yes, this event is in the evening but don't get too grumbly, because it's a chill event you don't wanna miss. As a student, there are many organizations and clubs to be a part of at Baylor and Late Night is the perfect way to be introduced to them all. There are booths for as many clubs as you can think of and the sororities and fraternities put up booths as well so you can get to know each one for later in the year if you decide to RUSH. All throughout campus, there are booths with information and sign-ups for groups such as Republican Club and Habitat for Humanity and a bunch of sports teams you can join. It is such a fun night walking around campus to see what you can be involved in, just make sure you sign up for everything that sounds interesting. You always have the option of backing out later.
4. Christmas On 5th
Baylor is nothing but spirited and when Thanksgiving is over, Christmas time is here. This is definitely an event that you will be glad you dragged your butt to as all of Fountain Mall is decorated with nutcrackers and the manger and Santa Clause. There are animals such as donkeys and camels and everyone brings their dogs and it is a true petting zoo. Inside the SUB, there are cookie decorating and writing letters to Santa as well as an intricate CandyLand scene where you receive candy along your route to the throne room, where you can take cute pictures with all your friends. Speaking of pictures, you definitely need to make taking a picture with Santa Clause a check off on your Bucket List at Baylor. Plus, the free hot chocolate that is distributed is to die for and you won't regret coming once everyone gathers close near Draper building to see the Christmas Tree lighting. It is such a magical experience that you will remember forever!
5. Dia de Oso
You might be asking yourself: "What the heck is 'Dia de Oso'?" Well, this is an amazing event that Baylor hosts during Spring Semester where they cancel classes for a day and have all these fun events around campus. In literal meanings, it means "Day of the Bear".  It's a great way to de-stress and take a break before finals start up. In past years there have been events such as Yoga with Goats (though not much yoga actually went on) and celebrities such as Ansel Elgort coming to put on a concert on campus. There is Zumba and Fun Runs and food trucks and photo booths, all of it created in order to bring students together and put smiles on their faces. If you are needing a break from studying for Spring finals and want to just enjoy yourself, head over to Dia de Oso and participate in a Super Smash Bros tournament and stroke a couple animals at the petting zoo.
Whether you like to stay in on Friday nights or you are the life of the party, these five events at Baylor are the few that you just cannot miss! Getting involved is so important at college and makes your experience there so much better. So make sure you engage in all the fun activities that this school has to offer and make the most of your time at BU!